Top Ten Tuesday is a weekly meme hosted by  The Broke and The Bookish.
Top Ten Underrated  Books in YA!
Ten Things We Did (and Probably Shouldn't Have) by Sarah Mlynowski
2 girls + 3 guys + 1 house – parents = 10 things April and her friends did that they (definitely, maybe, probably) shouldn't have.

If given the opportunity, what sixteen-year-old wouldn't jump at the chance to move in with a friend and live parent-free? Although maybe "opportunity" isn't the right word, since April had to tell her dad a tiny little untruth to make it happen (see #1: "Lied to Our Parents"). But she and her housemate Vi are totally responsible and able to take care of themselves. How they ended up "Skipping School" (#3), "Throwing a Crazy Party" (#8), "Buying a Hot Tub" (#4), and, um, "Harboring a Fugitive" (#7) at all is kind of a mystery to them.

In this hilarious and bittersweet tale, Sarah Mlynowski mines the heart and mind of a girl on her own for the first time. To get through the year, April will have to juggle a love triangle, learn to do her own laundry, and accept that her carefully constructed world just might be falling apart . . . one thing-she-shouldn't-have-done at a time.
The Tyrant's Daughter by J.C. Carleson
From a former CIA officer comes the riveting account of a royal Middle Eastern family exiled to the American suburbs.

When her father is killed in a coup, 15-year-old Laila flees from the war-torn middle east to a life of exile and anonymity in the U.S. Gradually she adjusts to a new school, new friends, and a new culture, but while Laila sees opportunity in her new life, her mother is focused on the past. She's conspiring with CIA operatives and rebel factions to regain the throne their family lost. Laila can't bear to stand still as an international crisis takes shape around her, but how can one girl stop a conflict that spans generations?

J.C. Carleson delivers a fascinating account of a girl—and a country—on the brink, and a rare glimpse at the personal side of international politics.
The Marbury Lens by Andrew Smith
Sixteen-year-old Jack gets drunk and is in the wrong place at the wrong time. He is kidnapped. He escapes, narrowly. The only person he tells is his best friend, Conner. When they arrive in London as planned for summer break, a stranger hands Jack a pair of glasses. Through the lenses, he sees another world called Marbury.

There is war in Marbury. It is a desolate and murderous place where Jack is responsible for the survival of two younger boys. Conner is there, too. But he's trying to kill them.

Meanwhile, Jack is falling in love with an English girl, and afraid he's losing his mind.

Conner tells Jack it's going to be okay.

But it's not.

Andrew Smith has written his most beautiful and personal novel yet, as he explores the nightmarish outer limits of what trauma can do to our bodies and our minds.
The Book of Blood and Shadow by Robin Wasserman
It was like a nightmare, but there was no waking up.  When the night began, Nora had two best friends and an embarrassingly storybook one true love.  When it ended, she had nothing but blood on her hands and an echoing scream that stopped only when the tranquilizers pierced her veins and left her in the merciful dark.

But the next morning, it was all still true: Chris was dead.  His girlfriend Adriane, Nora's best friend, was catatonic. And Max, Nora's sweet, smart, soft-spoken Prince Charming, was gone. He was also—according to the police, according to her parents, according to everyone—a murderer.

Desperate to prove his innocence, Nora follows the trail of blood, no matter where it leads. It ultimately brings her to the ancient streets of Prague, where she is drawn into a dark web of secret societies and shadowy conspirators, all driven by a mad desire to possess something that might not even exist. For buried in a centuries-old manuscript is the secret to ultimate knowledge and communion with the divine; it is said that he who controls the Lumen Dei controls the world. Unbeknownst to her, Nora now holds the crucial key to unlocking its secrets. Her night of blood is just one piece in a puzzle that spans continents and centuries. Solving it may be the only way she can save her own life.
The Vigilante Poets of Selwyn Academy by Kate Hattemer
Witty, sarcastic Ethan and his three friends decide to take down the reality TV show, For Art's Sake, that is being filmed at their high school, the esteemed Selwyn Arts Academy, where each student is more talented than the next. While studying Ezra Pound in English class, the friends are inspired to write a vigilante long poem and distribute it to the student body, detailing the evils of For Art's Sake. But then Luke—the creative force behind the poem and leader of the anti-show movement—becomes a contestant on the nefarious show. It's up to Ethan, his two remaining best friends, and a heroic gerbil named Baconnaise to save their school. Along the way, they'll discover a web of secrets and corruption involving the principal, vice principal, and even their favorite teacher.
The Friday Society by Adrienne Kress
An action-packed tale of gowns, guys, guns –and the heroines who use them all 

Set in turn of the century London, The Friday Society follows the stories of three very intelligent and talented young women, all of whom are assistants to powerful men: Cora, lab assistant; Michiko, Japanese fight assistant; and Nellie, magician's assistant. The three young women's lives become inexorably intertwined after a chance meeting at a ball that ends with the discovery of a murdered mystery man.

It's up to these three, in their own charming but bold way, to solve the murder–and the crimes they believe may be connected to it–without calling too much attention to themselves.

Set in the past but with a modern irreverent flare, this Steampunk whodunit introduces three unforgettable and very ladylike–well, relatively ladylike–heroines poised for more dangerous adventures.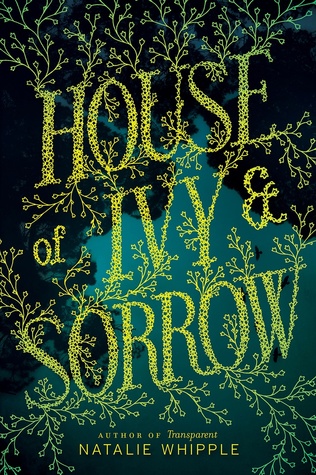 House of Ivy & Sorrow by Natalie Whipple
Josephine Hemlock has spent the last 10 years hiding from the Curse that killed her mother. But when a mysterious man arrives at her ivy-covered, magic-fortified home, it's clear her mother's killer has finally come to destroy the rest of the Hemlock bloodline. Before Jo can even think about fighting back, she must figure out who she's fighting in the first place. The more truth Jo uncovers, the deeper she falls into witchcraft darker than she ever imagined. Trapped and running out of time, she begins to wonder if the very Curse that killed her mother is the only way to save everyone she loves.
Tin Star by Cecil Castellucci
On their way to start a new life, Tula and her family travel on the Prairie Rose, a colony ship headed to a planet in the outer reaches of the galaxy. All is going well until the ship makes a stop at a remote space station, the Yertina Feray, and the colonist's leader, Brother Blue, beats Tula within an inch of her life. An alien, Heckleck, saves her and teaches her the ways of life on the space station.

When three humans crash land onto the station, Tula's desire for escape becomes irresistible, and her desire for companionship becomes unavoidable. But just as Tula begins to concoct a plan to get off the space station and kill Brother Blue, everything goes awry, and suddenly romance is the farthest thing from her mind.

T
he Space Between by Brenna Yovanoff
Everything is made of steel, even the flowers. How can you love anything in a place like this?

Daphne is the half-demon, half-fallen angel daughter of Lucifer and Lilith. Life for her is an endless expanse of time, until her brother Obie is kidnapped – and Daphne realizes she may be partially responsible. Determined to find him, Daphne travels from her home in Pandemonium to the vast streets of Earth, where everything is colder and more terrifying. With the help of the human boy she believes was the last person to see her brother alive, Daphne glimpses into his dreams, discovering clues to Obie's whereabouts. As she delves deeper into her demonic powers, she must navigate the jealousies and alliances of the violent archangels who stand in her way. But she also discovers, unexpectedly, what it means to love and be human in a world where human is the hardest thing to be.
Sanctum by Sarah Fine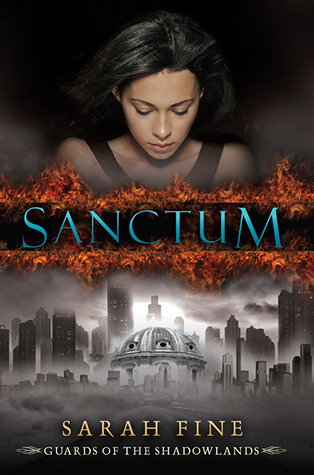 "My plan: Get into the city. Get Nadia. Find a way out. Simple."

A week ago, seventeen-year-old Lela Santos's best friend, Nadia, killed herself. Today, thanks to a farewell ritual gone awry, Lela is standing in paradise, looking upon a vast gated city in the distance—hell. No one willingly walks through the Suicide Gates, into a place smothered in darkness and infested with depraved creatures. But Lela isn't just anyone—she's determined to save her best friend's soul, even if it means sacrificing her eternal afterlife.

As Lela struggles to find Nadia, she's captured by the Guards, enormous, not-quite-human creatures that patrol the dark city's endless streets. Their all-too-human leader, Malachi, is unlike them in every way except one: his deadly efficiency. When he meets Lela, Malachi forms his own plan: get her out of the city, even if it means she must leave Nadia behind. Malachi knows something Lela doesn't—the dark city isn't the worst place Lela could end up, and he will stop at nothing to keep her from that fate.
Related Posts