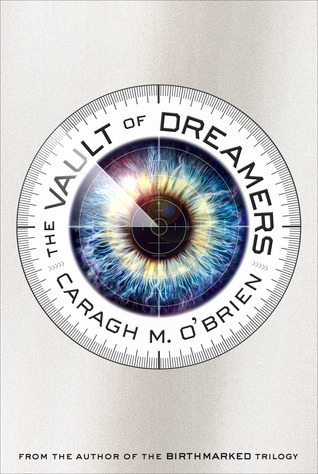 The Vault of Dreamers
Published by
Roaring Book Press
on September 16th 2014

Genres: Dystopian, Fiction, Mystery, YA, Young Adult

Goodreads
---
From the author of the Birthmarked trilogy comes a fast-paced, psychologically thrilling novel about what happens when your dreams are not your own.
 
The Forge School is the most prestigious arts school in the country. The secret to its success:  every moment of the students' lives is televised as part of the insanely popular Forge Show, and the students' schedule includes twelve hours of induced sleep meant to enhance creativity. But when first year student Rosie Sinclair skips her sleeping pill, she discovers there is something off about Forge. In fact, she suspects that there are sinister things going on deep below the reaches of the cameras in the school. What's worse is, she starts to notice that the edges of her consciousness do not feel quite right. And soon, she unearths the ghastly secret that the Forge School is hiding—and what it truly means to dream there.
After reading (+ loving) the Birthmarked Trilogy, I knew I had to pick up Caragh O'Brien's next novel. And I'm happy to say that this book did not disappoint, I liked it overall.
Sophie is a girl attending the Forge School for talented artists and as per her contract, she has to take a sleeping pill and sleep exactly for 12 hours. But one night, she skips her pill and ends up discovering something she wasn't expecting. Dealing with the things she's seen isn't easy when the Forge School is also littered with cameras, documenting everything for a reality show revolving around the students at the school.
In general, I liked the main character, Sophie,  and her determination, spontaneity and her snark. I loved how she interacted with other characters and how she was different from the other students that attended the Forge School (not to say that she was above them but she just thought differently about the whole thing). Seeing Sophie struggle with what was happening in the school was very interesting and I enjoyed it immensely.
The plot itself was very complex but well thought-out. I loved seeing how dreams and the students were all connected but saying anything further feels spoilery. Despite the well-written plot, it sometimes felt dragged on and the pacing was terribly slow. Only in the 2nd half of the book do readers get a chance to get some answers and as such it was kinda slow to get into. But the slow plot wasn't that bad because readers get a chance to learn more about the other students and I loved reading all about Burnham (one of Sophie's friends) and the other friends that Sophie made.
Another thing that I did not enjoy was the romance. The romance started out as Linus, a kitchen boy, helping Sophie pass the 1st stage of the reality show so she can stay at the school. From there, it turned a little insta-lovey and sometimes annoying. I didn't really see what connection Sophie and Linus had and I didn't see why she felt so protective of him. The whole romance irked me with its hastiness, lack of depth and typical YA tropes (i.e. innocent girl, experienced guy, a brooding dude who claims that "guys don't get upset", etc.) I just didn't really get the romance but as a whole, it was not that big of a part of the novel so it was manageable.
As I was writing this review, I realized something. The ending was superb and well-written, a truly wonderful ending, but in hindsight, as readers, we get basically no questions answered. So many things happened leading up to the ending and while Sophie's questions are answered, some of the side-characters are completely forgotten and (dare I say it) abandoned because of their lack of importance in Sophie's life. I can see how this book has room to be a part of a companion duology to answer some of these questions and I am kinda hoping that it will be the case.
Overall, The Vault of Dreamers is an interesting and thought-provoking novel about the mysteries of an arts school and a filmmaker who changes everything. If you're looking for a new dystopian novel in a world of predictable ones, I highly recommend this one.
Related Posts