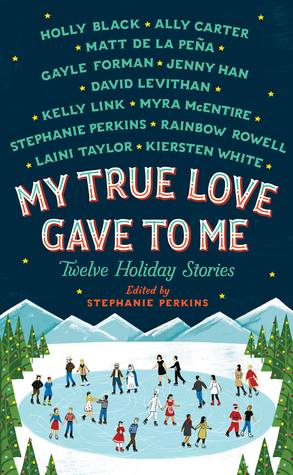 My True Love Gave to Me: Twelve Holiday Stories
by Ally Carter, David Levithan, Gayle Forman, Holly Black, Jenny Han, Kelly Link, Kiersten White, Laini Taylor, Matt de la Pena, Myra McEntire, Rainbow Rowell, Stephanie Perkins

Published by
St. Martin's Press
on October 14th 2014

Genres: Fiction, General, Romance, Short Stories, YA, Young Adult

Goodreads
---
If you love holiday stories, holiday movies, made-for-TV-holiday specials, holiday episodes of your favorite sitcoms and, especially, if you love holiday anthologies, you're going to fall in love with MY TRUE LOVE GAVE TO ME: TWELVE HOLIDAY STORIES by twelve bestselling young adult writers, edited by international bestselling author Stephanie Perkins.
I was given an eARC by the publisher for review. This does not influence my opinions or thoughts on any of the short stories or works.
Since there are twelve holiday stories, I will be writing mini-reviews for each story and an overall impressions section at the end of the review. This review includes individual ratings + an overall rating.
Midnights by Rainbow Rowell
★★★★★
This short story spans over four midnights, each revolving around Mags and a boy named Noel. Noel and Mags become best friends and every year, we are shown glimpses of their lives on New Year's Day. This story is precious, sweet, feels-inducing and very cute.  This story holds a special place in my heart because I love New Year's Eve (mostly because I don't celebrate Christmas but still) and gahh this was the PERFECT New Year's story. SO PERFECT! It was just cute, adorable, sweet and very feels-inducing. Loved this one!
The Lady and the Fox by Kelly Link
★★
At first, I thought this story was historical fiction. But then it mentions the words 'Skype' and I became really confused. The writing style certainly does not match present day and it feels out of place. I didn't really understand the point of this story and I do not understand what I am supposed to think. I didn't really care about the characters, plot or how any of it would end. I feel very meh about this one.
Angels in The Snow by Matt de la Pena
★★★★
Shy (yes that's his real name) is cat-sitting for his boss and his Christmas isn't looking so grand, that is until he meets Hayley. And then it's sort of manageable. For fear of spoilers, I say no more about the plot. I will say that I found this short story to be refreshing, real and definitely great. Really enjoyed this short story.
Polaris is Where You'll Find Me by Jenny  Han
★★★★
This is a short story about a girl who was abandoned in her early childhood and is now the daughter of Santa Claus. AND THERE'S ELVES! But these elves aren't the small and dumb ones we see in Christmas stories, they are tall and elegant, ones similar to those we'd see in fantasy novels. So yeah, this story is pretty great.  Definitely a perfect story for the holiday season!
It's a Yuletide Miracle, Charlie Brown by Stephanie Perkins
★★★★★
Marigold has been coming to the Christmas tree lot for the past month in search of a boy. No, not because she wanted to find a special connection but because he has a great voice. A voice that she needs for her latest animation video, and her ticket out of town *cue fangirly squeals over how awesome that sounds already*. I fear that anything else I say will just be spoilery but you should all know this this short story is also very feels-inducing. SO CUTE, SO MARVELLOUS! I love it!
Your Temporary Santa by David Levithan
★★★★
I literally let out a squeal when I saw that there was a short story by David Levithan in this anthology. I clearly didn't read about who the authors were enough because damn, DAVID LEVITHAN! And I am happy to report that David Levithan did not disappoint! His short story makes you feel both optimistic, sad and sort of hopeful at the same time. It's a strange combination but nothing I don't expect from one of my favourite authors. This short story felt very real and I enjoyed reading it.
Krampuslauf by Holly Black
★★★★
Krampuslauf is about a girl and her friends attending a horribly inaccurate festival in honour of Krampus in order to find out whether a friend's boyfriend has another girlfriend. But over time, it's not really about that. It's more about the girl and her overactive imagination and one great New Year's Party. I really enjoy this story and I think most people will too!
What the Hell Have You Done, Sophie Roth?
★★★★
This.short.story.is.SO.cute. SO CUTE! Gahh I wanna hug this story and just dance around with it and shove it down everyone's throats. (That kinda took a dark turn, sorry). I also loved this story because it's about going to a new place and not being sure of you are and what you want. And it's a Hanukkah story which makes it more awesome for me haha. What I'm trying to say: READ THIS SHORT STORY
Beer Buckets and Baby Jesus by Myra McEntire
★★★
Another sweet and adorable short story. This one is about Vaughn, a huge troublemaker, who burns down a barn near a Church and is forced to do some community service (i.e. helping with the Church pageant) to make up for it. There are also themes of friendship, family troubles and romance in this story. A pretty good mix, I think. This is sort of a Christmas story but not in actuality, it's hard to explain. I really liked this story and it was pretty enjoyable.
Welcome to Christmas, CA by Kiersten White
★★★★★
This story is about a very small town, well more like a place since it's too small to be a town, called Christmas, a girl named Maria, her family's diner and a new cook named Ben. It's a very good story. Basically, Maria wants to leave Christmas and she's felt that way for a while. I fear that adding anything more will spoil it but I shall say this: so much character growth in such a short story! And gahh THE CUTENESS! And the family aspect of this story is phenomenal! Phenomenal, I say! I may have shed some (happy) tears at one point or another while reading. Such a great story!
Star of Bethlehem by Ally Carter
★★★★
This story was definitely unique. Basically, Lydia (at least that's what she calls herself) switches plane tickets with a girl clearly in distress and ends up in Oklahoma, pretending to be an Icelandic girl who's on a five-month long student exchange. The concept itself seems very unique and entertaining. Once again I find myself breaking into the lapse of gushing over how awesome this story was, it really was! This story was so cute and awesome and just plain heartwarming.
The Girl Who Woke the Dreamer by Laini Taylor
★★★★
I feel like explaining this story would just take the fun out of it. This story is a fantasy short story that is both beautifully written and just plain awesome. Gahh I loved it too!
Overall Impressions:
Overall, I loved My True Love Gave to Me! It was just a phenomenal anthology with so many great and adorable short stories. I highly recommend that you treat yourself this holiday season and get a copy for yourself, or someone you know!
Related Posts