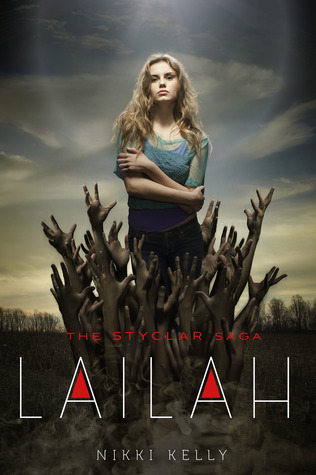 Lailah
by Nikki Kelly

Series:
The Styclar Saga #1
Published by
Feiwel & Friends
on October 7th, 2014

Genres: Fantasy & Magic, Paranormal Romance, YA, Young Adult

Pages: 352

Goodreads
---
The girl knows she's different. She doesn't age. She has no family. She has visions of a past life, but no clear clues as to what she is, or where she comes from. But there is a face in her dreams – a light that breaks through the darkness. She knows his name is Gabriel.

On her way home from work, the girl encounters an injured stranger whose name is Jonah. Soon, she will understand that Jonah belongs to a generation of Vampires that serve even darker forces. Jonah and the few like him, are fighting with help from an unlikely ally – a rogue Angel, named Gabriel.

In the crossfire between good and evil, love and hate, and life and death, the girl learns her name: Lailah. But when the lines between black and white begin to blur, where in the spectrum will she find her place? And with whom?

Gabriel and Jonah both want to protect her. But Lailah will have to fight her own battle to find out who she truly is.
I received this book from Macmillan for a review (thanks!), however, this does not affect the contents of my review nor my thoughts about the book. 
Looking at the cover and reading the synopsis, it was pretty easy for me to want to read this book IMMEDIATELY. Basically, a 17 year old girl,Francesca, is immortal, well, sort of. When she dies, she comes back to life immediately but with little memory except her name and a general sense of who she is. Except, Francesca doesn't really know how or why she can't die. And this is where the plot of Lailah starts.
Lailah was just a whirlwind of action, suspense, a little creepiness and swoon-worthy romance. The mystery behind Francesca (a.k.a Cessie)'s immortality is not too hard to figure out but Francesca still struggles to understand it herself. While all of this self-searching is happening, Cessie struggles to choose between two guys. Yes, there is a love triangle and while I am not a fan of them, this love triangle was handled excellently (it was actually plausible). Gabriel, an angel, is basically a Boy Scout on the outside but as the book goes on, maybe there's more to him than meets the eye. The same is relevant of Jonah except Jonah is a vampire and is pretty much the opposite of Gabriel, or is he? *dun dun dunnn*
In general, I thought the romance was done well and I enjoyed reading parts of it however Cessie annoyed me endlessly. Before she starts having an inner monologue about which guy to choose, I think she needs to figure out who she is. I understand that she's a little niave (especially about herself) so I understand why she has a huge co-dependence but it still annoyed me. Francesca was very determined, which I enjoyed, but her co-dependence annoyed me endlessly but by the end of the book, Francesca grew quite a lot from her niave-self in the beginning of the book and I hope that happens with the rest of the series as well.
The world-building and plot were just exceptional. Seriously, I adored it. I couldn't even imagine a world that has vampires and angels and I really enjoyed that fresh twist. I loved all of the origin stories of each being and the unique execution of the plot. While most of the plot moved forward through Francesca's naivety, I still was surprised by some twists and turns.
Overall, I really really enjoyed Lailah and its world was just captivating! I definitely recommend this one for people looking for an awesome paranormal novel with quite a bit of hot romance!
Related Posts