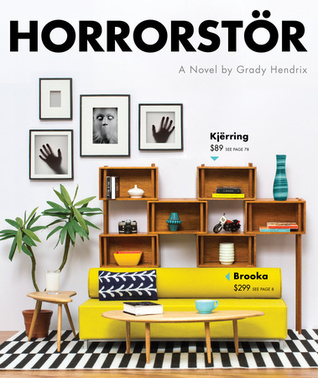 Horrorstör by Grady Hendrix
by Grady Hendrix

Published by
Quirk Books
on September 23rd 2014

Genres: Fiction, Horror, Mystery

Goodreads
---
Something strange is happening at the Orsk furniture superstore in Columbus, Ohio. Every morning, employees arrive to find broken Kjerring wardrobes, shattered Brooka glassware, and vandalized Liripip sofa beds clearly, someone or something is up to no good.

To unravel the mystery, five young employees volunteer for a long dusk-till-dawn shift—and they encounter horrors that defy imagination. Along the way, author Grady Hendrix infuses sly social commentary on the nature of work in the new twenty-firstcentury economy.

A traditional haunted house story in a contemporary setting (and full of current fears), Horrorstör comes conveniently packaged in the form of a retail catalog, complete with illustrations of ready-to-assemble furniture and other, more sinister accessories. We promise you've never seen anything quite like it!
I received a finished hardcover of Horrorstor from the publisher for review. This does not change the contents of my review or my opinion! 
When I first heard about Horrorstor, I was fairly excited to read it. I mean, a horror novel set in an IKEA-like store! Five young employees being brought together! ILLUSTRATIONS! What more could I ask for?!?! Well I'm glad to say that Horrorstor did not disappoint. I enjoyed it immensely and I loved the formatting of the novel. The detail alone was just phenomenal and really made the novel stand out.
Our story starts with Amy, a young woman working at ORSK until she figures out what to do next. She was such a well-developed character and you couldn't help but root for her. The other characters were also just as amazing and well-developed and really fit into the story. All the characters were just awesome and very interesting to read about.
The plot of Horrorstor was unique and fascinating but the pacing was a little slow. I sometimes struggled to really get into the novel but the story was still very gripping. The art and layout of the novel was very unique and definitely added to the plot!
Overall, Horrorstor was a fascinating and awesome novel with great well-developed characters. I highly recommend Horrorstor if you're looking for something unique! To say that I haven't read anything like it would not be an exaggeration, just as the synopsis promises!
Related Posts