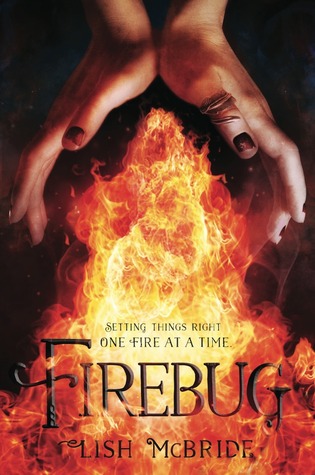 Firebug
by Lish McBride

Series:
Firebug #1
Published by
Henry Holt and Co.
on September 23rd 2014

Genres: Action & Adventure, Fantasy, Fantasy & Magic, Paranormal, Young Adult

Goodreads
---
Ava can start fires with her mind . . . but is it a blessing or a curse?

Ava is a firebug—she can start fires with her mind. Which would all be well and good if she weren't caught in a deadly contract with the Coterie, a magical mafia. She's one of their main hit men . . . and she doesn't like it one bit. Not least because her mother's death was ordered by Venus—who is now her boss.

When Venus asks Ava to kill a family friend, Ava rebels. She knows very well that you can't say no to the Coterie and expect to get away with it, though, so she and her friends hit the road, trying desperately to think of a way out of the mess they find themselves in. Preferably keeping the murder to a minimum.
Hey guys, today we have the lovely Lish McBride on the blog today for her upcoming release, Firebug! This post features my 5 star review with many caps, a guest post from Lish AND an awesome giveaway for US/CAN readers! Without further ado, I present FIREBUG!
Before we start, you can:
-Read an excerpt of Firebug now! (which I highly recommend!)
-Download the first five chapters of Firebug for free! (DO IT!)
-Follow Lish McBride on Twitter!
-Become a fan on Facebook
-Check out her website!
Guest Post
Urban fantasy is definitely its own beast. In some ways, traditional fantasy is easier, because you get to make everything run the way you want to without conforming to a preexisting world. That being said, the flip side is also true—with traditional fantasy you have to make ALL OF IT UP. Which puts a burden on the writer. Besides figuring out how the magic works, you also have to figure out how the world itself works. Whereas with urban fantasy, you can just ask yourself, "So…am I going to change things or leave the world as it is, with the exception of just adding magic? If so, is the normal world aware of the magical aspects?" And once those bits are handled, you can move on. You can also rely heavily on the fact that the reader will fill in details for you. If I'm writing and my characters walk into a mall or a Starbucks or whatever, I barely even have to describe it, because the reader's brain will automatically fill in details from the malls or Starbucks that they are familiar with. But again, there's a flipside—you have to get those real details right. If you don't, it will stick out. It will also kick the reader out of the narrative and make it that much harder for them to believe the magical stuff you add later. It's almost a betrayal of trust. If the reader can't trust you to do your legwork and get the mundane correct, how can they trust you when you give them the rules of magic?
Getting those details right is why research is so important for a writer. Firebug is set in Maine. I've been there twice in my whole life, which makes it difficult to make sure I'm getting the details right. My brother and his wife have lived in Maine for years, so I had to keep sending them drafts to fact check for me (and then hope I got it all right when I edited it). I would get lists back with corrections on how they say things, what food they would eat, what they would call that food, etc. I would also have to correct what animals and plants they saw—because though I would try and look this stuff up, I inevitably screwed sp some of the details. We ended up moving some of the action to different cities because the stuff I had my characters doing wouldn't fit in the towns I was picking. Small, mundane details that might just come up once, but would stand out like crazy to someone from the area.
Firebug is set in our world, and I decided to make magic a hidden thing, which has impacted how I set up my magic rules and how my characters function. My creatures have to hide what they are and what they do. That means the non-human looking ones have to pay a lot of money to witches to buy wards that glamour their appearance and make them look human. That impacts the jobs those creatures take and how they live. They can't go to regular hospitals and they have to be hyper vigilant on how they appear to the human world. Ava has to make sure no one sees what she can do. She has to hide her powers. She has to purchase warded clothing so she's not singeing it all the time. Her house is fireproofed, warded, and full of fire extinguishers. Her calorie intake must be high, so she has to eat frequently. In a culture obsessed with how girls look, what they weigh, and what they eat, if she's not careful, she'll draw attention. The laws of the real world impact her magic and vice versa.
It can be almost a puzzle to get it all to work together in a believable way. A great deal of my editing notes has to do with those little details. It's like when I went to see the recent Godzilla and I kept wondering why the army insisted on shooting Godzilla with their guns. Godzilla was huge. The bullets, in comparison, were quite tiny. Godzilla didn't seem bothered by them at all. So I kept wondering why they insisted on shooting him and why they didn't switch to rocket launchers and such. A little real world detail that bothered me the entire film and made it harder for me to buy into the big stuff. My editor looks for those kinds of details and does her best to catch those flaws in logic and to make sure the magical rules are consistent and believable as presented in the real world. It can be a big pain sometimes, figuring it all out, but it can be a lot of fun, too.
Review
Why is writing all the great reviews so hard? I don't think I can even begin to quantify or describe my feelings for Firebug. This book is just PURE AWESOME. The main characters, the side characters, the (maybe) romance, the fantasy aspects, THE HUMOUR, the chapter titles: IT WAS ALL MAGICAL.
First, we have our main character, Ava. Ava is a firebug which means that she can start fires with her mind. HER MIND! How cool is that?! But this is where it gets tricky. She's also an assassin for the Coterie, an organization run by a ruthless and cruel vampire. When Venus, the boss, asks her to get rid of one of her family friends, Ava rebels. I don't know about you but that synopsis/description ALONE makes me want to recommend this book to every single person I know. Heck, I would recommend this book to people I see on the streets. Maybe I'll have to start walking around with my ARC to get people to read it.
Anywho, Firebug has so many awesome things going for it. Ava, the main character, is just sassy, awesome and very determined to do what she thinks is right. That being said, she is sometimes not very wise about how her decisions affect other but her best friends, Lock and Ezra, don't hesitate to tell her everything she isn't aware of. This brings me to my next point, the side characters are also just amazing. Ezra is a sly were-fox (you read correctly) that is known for his superb appearance and flirting while Lock is a super sweet, handsome and witty forest spirit. This trio just works together in so many ways and I seriously loved the dynamic between Ava and the boys. Take this for example:
Naturally, my foot slipped on a wet rock as soon as we moved, completely ruining the image. Lock caught me before I slipped too far "That's what I love about you, cupcake, your natural grace and class."
"I'll show you grace and class," I said as I gave him the finger.
That quote alone should make you want to read this book! THE FRIENDSHIP! But with the friendship, comes what I think should be the best romance ever. I ship Lock/Ava so hard, I don't think there's a proper way to explain it without saying that I seriously wanted to go into the book and knock their heads together.
Other than the friendship with the boys, I loved her relationship with Cade, her guardian. Their love for each other was so real and apparent throughout the book. I also loved all the world-building and fantasy elements. The whole Coterie business was so interesting to read and I loved all of the creatures that appeared throughout the book.
Overall, Firebug is a superb fantasy novel that I will continue to force everyone to read. I loved all the friendships and fantasy elements throughout the novel and the main character is one of the best female protagonists I've read about in a while. I highly recommend this one to fantasy lovers and if you don't like fantasy, READ THIS ONE ANYWAY!
Giveaway!
This giveaway is sponsored by Macmillan and they will send out a copy to a lucky US/CAN winner! Please fulfill all the requirements for any extra entries and do not cheat! Cheaters will be banned from this giveaway and any future ones. Thank you & good luck!
Related Posts