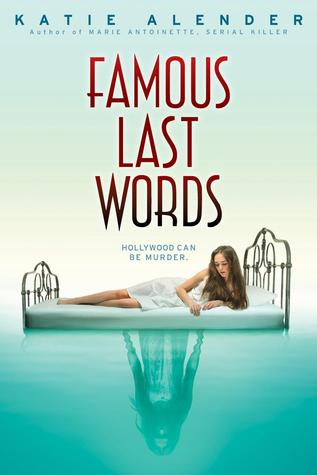 Famous Last Words
by Katie Alender

Published by
Scholastic Point
Genres: Contemporary, Mystery, Thriller, YA, Young Adult

Goodreads
---
Hollywood history, mystery, murder, mayhem, and delicious romance collide in this unputdownable thriller from master storyteller Katie Alender.

Willa is freaking out. It seems like she's seeing things. Like a dead body in her swimming pool. Frantic messages on her walls. A reflection that is not her own. It's almost as if someone -- or something -- is trying to send her a message.

Meanwhile, a killer is stalking Los Angeles -- a killer who reenacts famous movie murder scenes. Could Willa's strange visions have to do with these unsolved murders? Or is she going crazy? And who can she confide in? There's Marnie, her new friend who may not be totally trustworthy. And there's Reed, who's ridiculously handsome and seems to get Willa. There's also Wyatt, who's super smart but unhealthily obsessed with the Hollywood Killer.

All Willa knows is, she has to confront the possible-ghost in her house, or she just might lose her mind . . . or her life.

Acclaimed author Katie Alender puts an unforgettable twist on this spine-chilling tale of murder, mystery, mayhem -- and the movies.
I received an eARC of this book for review from the publisher, this does not affect the contests of my review or my opinions on the book.
When I first heard about Famous Last Words, I knew I had to pick it up, despite it being a book I wouldn't normally read. And oh boy am I glad I did. This book has everything! Murder, mystery, red carpets, brooding boys, new stepfathers, serial killers, and snarky characters. Basically, a recipe for a great read.
Willa is moving on up, to Hollywood! But only because her mom has remarried and Willa's stepfather is some big-deal director. While struggling with finding her place in a new world, Willa also discovers that there's a serial killer out there. And this serial killer targets young Hollywood actresses and recreates famous movie murder scenes, earning the killer the lovely nickname of the Hollywood Killer (personally, I like The Screamwriter better). But that's not all! Willa is seeing things that aren't really there and her new home may not be as safe as she thought… Once again I repeat, this is all a recipe for a great read! *cackles*
If that short description didn't sell you, here's to hoping that I can help. Famous Last Words is definitely a unique contemporary novel, with its somewhat closed-off main character and original plot. Willa was definitely a mystery to read about, especially since she keeps a part of her self secret even from herself, but over time, she learns to forget the past and get over what happened before the big move. (Are you hooked yet?) Her personal character development was just marvellous to read about and it kinda helps that she's a little snarky.
Besides the awesome that is Willa, the whole plot was very great too. I loved reading about the serial killer and about all the victims, reading what lead them to being killed. (I meant that in an interested way, not in a creepy way). And I am so pleased to say that where the plot is concerned, THERE IS A TWIST! And oh, it is a good one!
Despite the greatness of Famous Last Words, I have slight reservations about the romance. I thought the romance was somewhat cliche, typical and rushed but it was very cute and I'd be lying if I said it didn't make me giddy at one point or another. But unlike most YA novels, the romance is not as typical as *characters meet and instantly feel connection*, the romance builds over time and I think it turns out really well.
Overall, Famous Last Words is just an awesome novel that I highly enjoyed and highly recommend for people looking for an unusual and somewhat creepy contemporary read. Pro tip: don't read this one during a thunderstorm as I made the mistake of doing, it gets really creepy but still so enjoyable! Hope you guys pick up a copy soon!
Related Posts