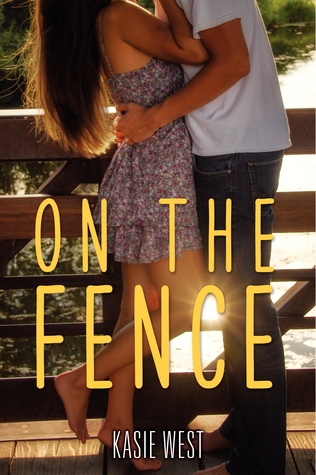 On the Fence
by Kasie West

Published by
HarperTeen
on July 1st 2014

Genres: Contemporary, Romance, YA, Young Adult

Goodreads
---
She's a tomboy. He's the boy next door…

Charlie Reynolds can outrun, outscore, and outwit every boy she knows. But when it comes to being a girl, Charlie doesn't know the first thing about anything. So when she starts working at a chichi boutique to pay off a speeding ticket, she finds herself in a strange new world. To cope with the stress of her new reality, Charlie takes to spending nights chatting with her neighbor Braden through the fence between their yards. As she grows to depend on their nightly Fence Chats, she realizes she's got a bigger problem than speeding tickets-she's falling for Braden. She knows what it means to go for the win, but if spilling her secret means losing him for good, the stakes just got too high.

Fun, original, and endearing, On the Fence is a romantic comedy about finding yourself and finding love where you least expect.
If you know me well, then you'd know that while I love my fair share of awesome action-packed stories, I also love cute summer reads. And On the Fence is probably one of the cutest books I've read this summer.
Having grown up with three brothers and only her dad, she doesn't really know anything about being your "typical" girl. She can play sports with the rest of the guys and she doesn't give a hoot about being more "girly". But when she has to work in a boutique to pay for her speeding ticket, she has some doubts about herself. So, she begins having nightly chats with Braden, her neighbour, to escape. Soon enough, she finds that maybe she could like Braden more than a friend and that's when things get sorta complicated. In other words, this book just sounds PERFECT!
First off, I really liked Charlie. While she isn't your typical main character, I could relate to her. While I may not love sports or playing outdoors, I often have doubts about traditional girl-boy roles. I love reading comics and I can yell "INACCURATE" at all the best comic-to-movie adaptations but I still love reading cheesy romances + watching cute rom-coms. I used to struggle with finding my place in a world that tends to be so this-or-that so I could definitely relate. On the other hand, I often found myself disagreeing with Charlie's actions. While I don't want to get into specifics, I think that she handled some situations really poorly.
In terms of plot, I absolutely loved seeing Charlie's relationship with all her brothers and father. I loved reading all their inside jokes and it kinda made me wish I had brothers. I also loved seeing Charlie make new friends and find more people that she can hang out with, it was nice reading about all these new people.
The romance was also just adorable. I loved the banter between Charlie and Braden and I just adored all their fence chats. I just ADORED seeing them work out their feelings and gaahhh I don't want to say anymore for fear of exploding just thinking about the cuteness!
Overall, On the Fence is a cute summer read and I highly recommend it for contemporary fans seeking a good summer read that also tries to tackle some tough issues.
Related Posts