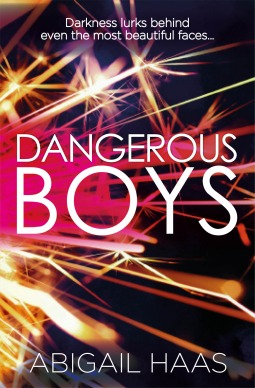 Dangerous Boys
by Abigail Haas

Published by
Simon & Schuster UK
on August 14th 2014

Genres: Contemporary, Mystery, Suspense, Thriller, YA, Young Adult

Goodreads
---
Three teens venture into the abandoned Monroe estate one night; hours later, only two emerge from the burning wreckage. Chloe drags one Reznick brother to safety, unconscious and bleeding; the other is left to burn, dead in the fire. But which brother survives? And is his death a tragic accident? Desperate self-defense? Or murder?

Chloe is the only one with the answers. As the fire rages, and police and parents demand the truth, she struggles to piece together the story of how they got there-a story of jealousy, twisted passion, and the darkness that lurks behind even the most beautiful of faces…
Hello, lovelies! I'm super happy to be here today sharing the awesomeness that is Dangerous Boys! I have teasers + other fun things to share and then my glowing review!
Early Praise
"Dangerous Boys is a taut, compelling thriller balanced on the razor's edge of suspense. I could not put it down, and could not stop grinning wickedly as I raced through the pages." — Leah Raeder, USA Today bestselling author of Unteachable
"Abigail Hass is a master at her craft! This is a special book and a special author. This is the kind of storytelling and writing that stick with you no matter how much time passes." — The Book Geek Blog
"As with Dangerous Girls, the closing left me with a huge, admittedly rather twisted smile on my face. I don't know how Haas manages to turn me into such a gleefully evil creature." — Dahlia Adler, blogger.
"Dangerous Boys was an intense, psychological read which was full of suspense and drama,…Abigail Haas has a way of writing books which reel you in and keep you there, hooked and addicted until the very last page." — Goodreads.com
About Abigail Haas
Abigail Haas has written two adult novels and four young adult contemporary novels under the name Abby McDonald. Dangerous Girls is her first young adult thriller. She grew up in Sussex, England, and studied Politics, Philosophy & Economics at Oxford University. She lives in Los Angeles.
Review
After reading the awesomeness known as Dangerous Girls, I knew I had to pick up Dangerous Boys. In short, Dangerous Boys is an intense thrilling novel that will keep you up at night. As I finished this book, my jaw dropped and I flocked to the internet to talk with some of my friends who've also already read it, it's that good.
In essence, Dangerous Boys is the story of Chloe and the Reznick brothers, Ethan and Oliver. After a mysterious meeting, one brother is in the hospital while the other is dead, burning in a house fire. Dangerous Boys goes through the events that lead to this particular affair and which brother is where.
To properly discuss Dangerous Boys, we must discuss main characters. I don't want to get into specifics of each character but I will say that each character, every emotion, and every action was written with such realism that I don't think I can even do it justice. I loved reading every intricate detail, every thought, and Dangerous Boys did not leave me disappointed.
Unlike Dangerous Girls, Haas' first book, the mystery was easier to predict but the characters still left me stunned. While Dangerous Boys might have lacked in surprise twists, it made up for it in intense characters and shocking endings. I loved Chloe's character development throughout the book and the general outcome of the story was both intense and chilling. The side characters, both her family and the Reznick brothers, were all intricately written with an intense, and realistic, amount of emotions. I don't think I can do the characters justice, they were all so complex and intense.
In general, Dangerous Boys is one awesome psychological thriller that I highly recommend! While I tried to express my love, and awe, for this book through my review, I don't think I can do it justice. If you like books with intense emotions, chilling stories and intricate characters, you should definitely pick up Dangerous Boys!
Related Posts