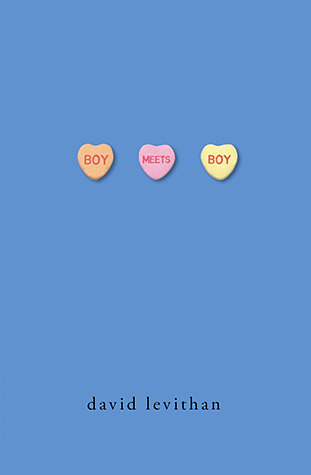 Boy Meets Boy
by David Levithan

Published by
Knopf
on September 9th 2003

Genres: Contemporary, Romance, YA, Young Adult

Goodreads
---
This is the story of Paul, a sophomore at a high school like no other: The cheerleaders ride Harleys, the homecoming queen used to be a guy named Daryl (she now prefers Infinite Darlene and is also the star quarterback), and the gay-straight alliance was formed to help the straight kids learn how to dance.

When Paul meets Noah, he thinks he's found the one his heart is made for. Until he blows it. The school bookie says the odds are 12-to-1 against him getting Noah back, but Paul's not giving up without playing his love really loud. His best friend Joni might be drifting away, his other best friend Tony might be dealing with ultra-religious parents, and his ex-boyfriend Kyle might not be going away anytime soon, but sometimes everything needs to fall apart before it can really fit together right.

This is a happy-meaningful romantic comedy about finding love, losing love, and doing what it takes to get love back in a crazy-wonderful world.
Paul, our main character, meets Noah one evening (in a bookstore!) and thus begins your average tale of high school love. Of course, Kyle, Paul's ex, comes back in the picture and Paul screws up, big time. Now it's up to Paul to fix the pieces of his life.
In short, Boy Meets Boy is your  average rom-com. With the exception that Paul lives in this somewhat-utopian town where everyone accepts each other for who they are. Although that's certainly not the case in real life. This utopian-style town annoys most people but I actually found it refreshing and fun to read. Paul has many friends who certainly wouldn't be accepted by most people today and to read a story where they were accepted was just outstanding. I loved all the side characters and their development, and I loved reading about all the different friendships and relationship. The friendship elements are also really highlighted throughout the book and I loved seeing all the support and help that Paul gets throughout the novel.
The romance in this novel was also just adorable and you can't help but root for Paul/Noah when you read Boy Meets Boy. From the first time they met to the end of the book, I was cheering them on. Paul is a teenage boy just looking to have fun and meet the right guy while Noah tries to appreciate life and enjoy his art. I just loved seeing their chemistry and seeing them bond over common interests.
Boy Meets Boy is tragically short so I don't to go on and on about the same points. Overall, Boy Meets Boy is a cute LGBT book that I highly recommend for fans of contemporaries or for people just looking for a cute story.
Related Posts