This book may be unsuitable for people under 17 years of age due to its use of sexual content, drug and alcohol use, and/or violence.
Beautiful Oblivion
Series:
Beautiful #3
Published by
Atria Books
on July 1st, 2014

Genres: Adult, New Adult, Romance

Goodreads
---
The Beautiful Disaster and Walking Disaster phenomenon continues in the first heart-pounding new adult romance in The Maddox Brothers series.

Fiercely independent Camille "Cami" Camlin gladly moved on from her childhood before it was over. She has held down a job since before she could drive, and moved into her own apartment after her freshman year of college. Now tending bar at The Red Door, Cami doesn't have time for much else besides work and classes, until a trip to see her boyfriend is cancelled, leaving her with a first weekend off in almost a year.

Trenton Maddox was the king of Eastern State University, dating co-eds before he even graduated high school. His friends wanted to be him, and women wanted to tame him, but after a tragic accident turned his world upside down, Trenton leaves campus to come to grips with the crushing guilt. 

Eighteen months later, Trenton is living at home with his widower father, and works full-time at a local tattoo parlor to help with the bills. Just when he thinks his life is returning to normal, he notices Cami sitting alone at a table at The Red. 

As the baby sister of four rowdy brothers, Cami believes she'll have no problem keeping her new friendship with Trenton Maddox strictly platonic. But when a Maddox boy falls in love, he loves forever—even if she is the only reason their already broken family could fall apart.

In the first installment of the Maddox Brothers books, readers can experience the rush of reading Beautiful Disaster for the first time, all over again.
After finishing Beautiful Oblivion this is basically me
And not just because I was eating lasagna while reading. O__O
You see I read Beautiful Disaster back when it was first released and I LOVED it. But I re-read it recently (when Walking Disaster was released) and it annoyed me that I liked it. That I saw this short tempered, cocky man child as sex on a stick. That I read this book with all it's cliches, unnecessary anguish and annoying inner monoluging and thought "Oh my gosh this is the best book ever".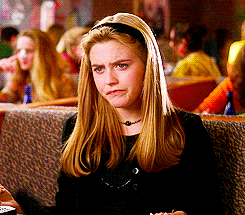 And I didn't really expect much from Beautiful Oblivion. To be honest I only picked it up because I went to the library and there were carts and I got grab happy and CARTS AT THE LIBRARY!! Anywho. Beautiful Oblivion sat at the bottom of my tote bag for days and after randomly starting it I realized I was hooked! Trent and Cami's story ran along side the Travis and Abby so of course there were cameos but I loved how even though the characters who started it all were here and there this was truly about Trent and Cami. Two people I genuinely enjoyed  reading about and experiencing. But what I liked most was how the tone fit the older, more mature characters. It's so easy to get caught up in a world you think you know and unfairly underrate something as important as tone. I'm not really sure how McGuire did it but she gave these two personalities that were fighting for the spotlight. So big and bold and sassy you couldn't help but instantly fall in love with them! And even when shit started to hit the fan you still wanted to tackle hug these two with all your might. But it wasn't just the tone! The story was excellently paced and while the "complications" were what you've come to know and love in NA they still had you by the balls. You wanted to know what would happen, how it would happen, when it would happen and why.
The only reason I'm knocking off half a star is because I felt some of the heavier/bigger aspects of Trent and Cami's lives weren't adequately covered. You don't go from this big "my dad's abusive and x,y,z" to nada. I really wanted that and other "things" to be further explored, explained and properly closed. I get that we weren't supposed to dwell on the bad but I think we could have done better there.
I'll definitely be grabbing book 4…whenever that may be.
Related Posts