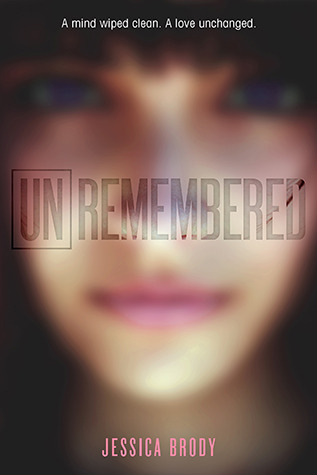 Unremembered
by Jessica Brody

Series:
Unremembered #1
Published by
Farrar Straus Giroux
on March 5th 2013

Genres: Dystopian, Romance, Sci-Fi, YA, Young Adult

Goodreads
---
When Freedom Airlines flight 121 went down over the Pacific Ocean, no one ever expected to find survivors. Which is why the sixteen-year-old girl discovered floating among the wreckage—alive—is making headlines across the globe.

Even more strange is that her body is miraculously unharmed and she has no memories of boarding the plane. She has no memories of her life before the crash. She has no memories period. No one knows how she survived. No one knows why she wasn't on the passenger manifest. And no one can explain why her DNA and fingerprints can't be found in a single database in the world.

Crippled by a world she doesn't know, plagued by abilities she doesn't understand, and haunted by a looming threat she can't remember, Seraphina struggles to piece together her forgotten past and discover who she really is. But with every clue only comes more questions. And she's running out of time to answer them.

Her only hope is a strangely alluring boy who claims to know her from before the crash. Who claims they were in love. But can she really trust him? And will he be able to protect her from the people who have been making her forget?

From popular young adult author Jessica Brody comes a compelling and suspenseful new sci-fi series, set in a world where science knows no boundaries, memories are manipulated, and true love can never be forgotten.
I received a paperback of Unremembered in exchange for an honest review. This does not affect the content of my review. 
I have wanted to start this series for so long but it wasn't until Unremembered was optioned for a movie that I finally had a chance to read it. And boy, am I glad I did! Heart-wrenching, mysterious and definitely swoony, Unremembered has it all!
Our story sets off after a flight crash that had a sole survivor, an amnesiac who can't even remember her own name. In the events following the crash, she is approached by a mysterious teenage boy who stirs up feelings that she can't place. Not only do readers get to learn more about the mysterious girl, we get to learn everything about how she got there/what happened.
One thing I absolutely loved about Unremembered is the fact that as an amnesiac, the main character barely has any recollection of her life before the crash creating the perfect opportunity for us to learn about who she is, with her. I always hate feeling that the main characters know too much early on, or feeling lost because I don't understand what is happening. In Unremembered, I got to learn everything with the main character and I loved that.
I also really enjoyed the overall plot. It felt fast-paced and not difficult to understand while having some awesome twists and turns. The sci-fi elements of the novel were just excellently written and I was super intrigued about Seraphina's world.  While Unremembered is a sci-fi/mystery novel, the romance plays a huge part in it. Fear not folks, the romance was totally plausible and had none of the instalove moments that we all dread. The romance was established in events prior to book one (in the novella, Undiscovered that I am dying to read) and the novel really emphasized all the pre-existing love that the main characters had for each other. Zen, our love interest, was just adorable and clearly would do anything for Seraphina.
Overall,  Unremembered was just an awesome sci-fi novel full of awesome plot and a great romance. I'm really looking forward to reading the sequel! I definitely recommend this one to reluctant sci-fi fans and those looking for an interesting and complex novel.
Related Posts