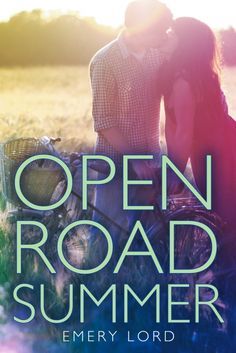 Open Road Summer
by Emery Lord

Published by
Walker
on April 25th 2014

Genres: Contemporary, Romance, YA, Young Adult

Goodreads
---
After breaking up with her bad-news boyfriend, Reagan O'Neill is ready to leave her rebellious ways behind. . . and her best friend, country superstar Lilah Montgomery, is nursing a broken heart of her own. Fortunately, Lilah's 24-city tour is about to kick off, offering a perfect opportunity for a girls-only summer of break-up ballads and healing hearts. But when Matt Finch joins the tour as its opening act, his boy-next-door charm proves difficult for Reagan to resist, despite her vow to live a drama-free existence. This summer, Reagan and Lilah will navigate the ups and downs of fame and friendship as they come to see that giving your heart to the right person is always a risk worth taking. A fresh new voice in contemporary romance, Emery Lord's gorgeous writing hits all the right notes.
I'm sure you've all heard about Open Road Summer and it's awesomeness (a.k.a Matt Finch). Well, I am here to confirm that the rumours are true! Open Road Summer is indeed, a great summer novel with one of the swooniest love-interests.
For those too lazy to read the synopsis (which always includes myself), Open Road Summer centres around Reagan and her best friend, Dee. Dee is going on tour because of her awesome country album and Reagan has tagged along. Reagan and Dee have been best friends for so long and after making a series of bad decisions, Reagan knows that Dee will be an awesome and positive influence this summer. But things get complicated when Matt Finch (*squeals*) joins the tour as Dee's fake boyfriend. In other words, Open Road Summer is just pure awesome and FANTASTIC.
I loved everything about Open Road Summer. Surprisingly, one of my favourite aspects of the novel is Reagan. I honestly can't recall a book where the main character is similar to Reagan, she's definitely one of the most unique main characters I've read about.  She isn't the nicest or most polite main character and she's made some mistakes. But this summer, she's trying to remedy some of that. Reagan is also super snarky,sarcastic and basically the most awesome dressed. To sum it up, I love her.
Also, I loved the friendship dynamic between Dee and Reagan. You could really feel their love for each other and it was super clear that both girls cared a lot for each other. I love seeing such a great friendship and I thought that the friendship was one of the best parts of Open Road Summer

And last but certainly not least, let's discuss the romance. And by that, I mean Matt Finch. Basically, Matt Finch is a super sweet boy and you will definitely ship him and Reagan. I can spend the next hour probably swooning over him so I will say this, you must read the book to find out his pure awesome, I can't even quantify it or attempt to describe it!
Overall, after reading Open Road Summer, I'm not even sure how I can cope with the awesome that is this novel. I highly recommend it as a summer read because it has country songs, awesome main characters, a realistic friendship and a super swoony romance! Are you sold yet?
Related Posts