I'm super excited to be able to share something awesome with you all! I finished Lailah last week (my review will be up closer to the release date) but I am super lucky to be able to interview Nikki!  Nikki is just lovely and I'm so glad that she agreed to participate in this interview & stay tuned for a giveaway!
Interview
Q: Describe Lailah (the main character) in 5 words!
A: Sincere, practical, stubborn, lost, conflicted!
Q: How did you get the idea to mix vampires and angels in the same novel?
A: I always say, write what you know and write what you love, and I am a big fan of all things Vampire and Angel. A self confessed Twihard, a lover of all thing True Blood and Angel stories, it stood to reason that I would end up writing something that included either or both—I decided, why not both! The story takes our preconceptions of what these beings are, and turns that idea on its head, offering new Vampire and Angel mythology. And from the blurb of the novel, Lailah might seem like it's a Vampire and Angel mash up, and don't get me wrong, it absolutely is, but the novel goes someway as to explaining where both really come from, and their purpose here on Earth. And while they are two different beings, they are more closely linked than you might first assume…
Q: Be honest: how difficult is the writing journey?
A: The writing journey itself has its difficulties; I'm not going to lie! There are times when the story just flows, and the muse is very much on your shoulder, but there are other times where it's not so forthcoming! I particularly enjoy the first draft stages, where I can be as messy as hell (and I am very messy!) simply getting the story down on the page. That said, by the time I'm hitting the last five chapters, I yearn for the revision and edit stages! I always say the first draft is just about telling the story, and I don't spend any time 'judging' it's just a free-fall of continual writing… and the revision stage is where I become a critic and work to iron out the kinks, while endeavouring to evolve the writing into something far more beautiful! The edit stage is where the nitty-gritty is really assessed, everything from a particular plot thread, character development, to a word choice in a sentence and continuity… and for me, it's where my Editor and I negotiate over 'terms' (due to the fact that I am English!) i.e. I lost 'knickers' to 'panties' 'chocolate digestives' to 'cookies' and 'Chinese whispers' became 'game of telephone' to name a few! I never realised how much I loved the letter 'u' until it was gone!
But, on a serious note, the most important thing is that I love telling stories, and I thank my lucky stars every single day that I'm in a position to be able to spend my time doing it! So if I have a difficultwriting day, I chalk it up to experience and don't let it get under my skin!
Q: Since you're working on your second novel, Gabriel, how does writing Gabriel compare to writing Lailah?
A: With Lailah, I had to establish the worlds, whereas with Gabriel, the story runs on directly from where Lailah left off. So now it's a case of further developing the world building and plot from Lailah, growing and weaving the threads further and letting the characters move forward in their journeys. I'm finding it easier in some respects, having now gone through the full process of creative writing, revising, editing and copy editing with Lailah, it has helped me with the earlier stages of penning Gabriel, as I now know the do's and don'ts that cost time later on to fix. I made a conscious effort with Gabriel to plan more heavily at the start, knowing this time around there was an actual deadline, but that ended up going out the window. Seems the way that works best for me is simply to have a clear premise, a rough beginning, middle and end mapped out, but most importantly a definite idea of where the story will finish up — the rest is left in the hands of my muse!
Q:Music is an important part of your writing (your twitter makes that clear), so what songs are inspiring you to write at the moment?
A: Music is soooo important to get me in the zone, before I sit down and pen anything! If writing were football then 'the big game' would be the time I spend actually creating, and listening to music would be the pep talk in the dressing room, before stepping out onto the field! (Shelly's note: all the songs listed are below-in order- in a convenient playlist!)
Prior to writing the action sequences, I'm currently playing:
The Rocky Soundtrack — 'No Easy Way Out' and 'Eye Of The Tiger'
Linkin Park — 'Until It's Gone' 'Final Masquerade' 'Burn It Down' and 'In The End'
For the tearjerker/ high emotion scenes:
Ed Sheeran's new album, 'X' — 'Even My Dad Does Sometimes' and 'I See Fire' have been on repeat a lot!
Avril Lavigne — 'Hush Hush' 'Hello Heartache' 'My Happy Ending' and 'Slipped Away'
Stone Sour — 'Bother'
For moody mindset, I roll with:
Lana Del Ray's new album, 'Ultraviolet'.
Evanescence — all albums.
The Goo Goo Dolls — 'Dizzy Up The Girl'
When I'm actually sitting behind my computer, I tend to play soundtrack albums:
The Doctor Who Soundtrack — 'Doomsday' 'The Long Song' and 'Vale Decem'
(Shelly's note: YES! I also love listening to the Doctor Who soundtrack, it's awesome!)
Q: Lailah is quickly growing in fame (in my opinion, at least), anything you want to say to your lovely readers?
A: What can you say to the very people who make your dream a reality? I'd say thank you for everything! But the problem with 'thank you' is that it isn't, and will never be enough. When someone invests his or her time in reading something you have created, it's just the most awesome thing in the whole entire world! Time is not something that you can buy, so for the readers to give it up for Lailah, leaves me feeling very overwhelmed, and then when they go on to tell other people about it, blog, tweet, tumble etc… it becomes even more mind boggling, and I have no words to express how very grateful and amazed I am, and continue to be by the readers!
Q: Any tips/advice you'd give to aspiring writers?
A: The advice I would give to any aspiring writer is quite simply; if you have a story to tell, don't stop until you've told it! I would also part with my Mom's wise words, the ones that kept me going when I stewed in my own self-doubt, something many of us suffer from… 'You only fail if you never try.'
Q: And now, a quick 'this or that'!
Chocolate vs. vanilla?
Chocolate! (I don't think that's really a question is it??! Shelly's note: Yes, it's a real question! Sometimes I get sick of choclate (**gasp** so I go for vanilla!)
Tea vs. coffee?
Tea!! (I'm English! #TeaLove is a sacred thing!)
Summer vs. winter?
Winter (It's easier to hide the junk in my truck with layers!)
Dogs vs. Cats?
Dogs! I have a Pug and a Chi!
TV vs. movies?
Movies!
Staying at home vs. going out?
Staying at home
Q:Top destination spot? (Please say Canada!)
Let's see… Canada!! For one, Canada is the home of maple syrup, one of my favourite things in the world!! (Shelly's note: YEESSS!)
— Thanks so much Nikki for doing this awesome interview!
About the Book!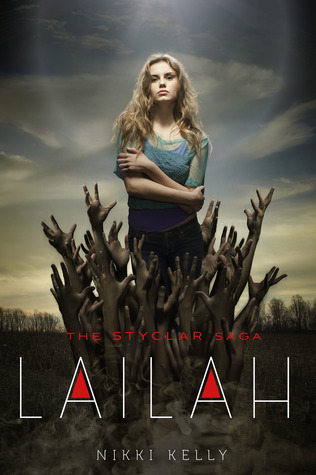 Lailah by Nikki Kelly
Release Date: October 7th from Fiewel & Friends
Genre: YA Fantasy, Romance
The girl knows she's different. She doesn't age. She has no family. She has visions of a past life, but no clear clues as to what she is, or where she comes from. But there is a face in her dreams – a light that breaks through the darkness. She knows his name is Gabriel.

On her way home from work, the girl encounters an injured stranger whose name is Jonah. Soon, she will understand that Jonah belongs to a generation of Vampires that serve even darker forces. Jonah and the few like him, are fighting with help from an unlikely ally – a rogue Angel, named Gabriel.

In the crossfire between good and evil, love and hate, and life and death, the girl learns her name: Lailah. But when the lines between black and white begin to blur, where in the spectrum will she find her place? And with whom?

Gabriel and Jonah both want to protect her. But Lailah will have to fight her own battle to find out who she truly is.
Giveaway!
I will be giving away my ARC of Lailah and some signed swag as well!
Related Posts