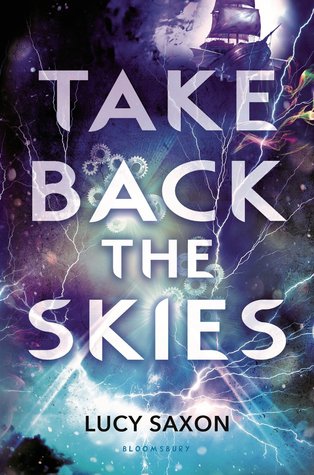 Take Back the Skies
by Lucy Saxon

Series:
Take Back the Skies #1
Published by
Bloomsbury USA Children
on June 3rd 2014

Genres: Sci-Fi, Steampunk, YA, Young Adult

Goodreads
---
Catherine Hunter is the daughter of a senior government official on the island of Anglya. She's one of the privileged – she has luxurious clothes, plenty to eat, and is protected from the Collections which have ravaged families throughout the land. But Catherine longs to escape the confines of her life, before her dad can marry her off to a government brat and trap her forever.

So Catherine becomes Cat, pretends to be a kid escaping the Collections, and stows away on the skyship Stormdancer. As they leave Anglya behind and brave the storms that fill the skies around the islands of Tellus, Cat's world becomes more turbulent than she could ever have imagined, and dangerous secrets unravel her old life once and for all . . .
Catherine Hunter comes from a privileged family but she years to explore and escape the clutches of the harsh society she lives in. Stowing away on a skyship named Stormdancer, Catherine becomes Cat and hides her identity. Travelling the skies, Cat discovers secrets that could be deadly and struggles to bring them to light. Basically, Take Back the Skies is the perfect mix of steampunk and a little bit of fantasy.
Take Back the Skies takes place in the kingdom of Anglya, a country missing its monarchy and that is now ruled by various members of the government, including Cat's father. The world-building was interesting and had a fantasy feel. While the main characters flew skyships and had access to advance technology, the world itself was deeply spiritual and had emphasis on gender roles that one would usually associate with fantasy novels. I think that the world-building was done excellently and really fit the plot.
I honestly loved Cat, our main character. She was spunky, smart and pretty aggressive for a fourteen year old. I adored her determination and love to discover new places and things. I also loved that she defied the gender roles of her time and put anyone in their place if they tried to insinuate that being a girl means that she can't work on a skyship. Her personality was definitely a highlight of the book and I loved reading her witty comebacks when people were less than kind towards her. Gender roles were a huge part  Anglyian society and Cat really tried to defy those roles.
The supporting characters were also an important part of the story. The captain of Stormdancer, Harry, and his wife, Alice, were awesome and were the perfect parent mentors for Cat. I also loved Matt & Ben and their friendship was one of my favourite parts of the book. I will say that I want Matt/Ben to happen later in the series because that would be AWESOME. Matt is the mechanic of the ship while Ben focuses on being a pilot. I can already imagine their adventures through space together.
Despite my love for Cat and the plot/world-building, I had two issues with Take Back the Skies. My first issue is the love interest, Fox. His flirting with Cat was actually kind of cute but his personality ruined the romance for me. Despite Cat's clear ability to take care of herself, Fox still demanded that he should protect her because he's a man and she is a female. I know that it was like that in the world at the time BUT Fox should have dropped this sexist behaviour after seeing that Cat could clearly take care of herself and didn't need him to protect her. Every time he said something sexist, Cat called him out on it which made me love her more but Fox's sexist behaviour was annoying and I would have liked to see some character development out of him.
The second issue I had with Take Back the Skies was the ending. I'll try to explain this in a non-spoilery way. The whole book Cat says "I will never do this ONE THING". The book ends with her swearing that she will never do said thing and then the epilogue starts. The epilogue is Cat, two years later, doing the ONE THING she said she would never do. (I really hope that made sense). I loved Cat's determination and tenacity and then the epilogue just ruins her for me. It doesn't seem like Cat would be the type of person to go back on her word so I was irked with the ending. I do acknowledge that Cat was 15 when she said she would never do this ONE THING so I understand that the epilogue makes sense because Cat's had time to mature about it but it still annoyed the hell out of me.
Overall, I enjoyed Take Back the Skies and recommend it for fans of steampunk and action-filled adventures. I loved the main character, Cat, and the supporting characters were excellent. The world-building was phenomenal with a 'fantasy' feel but I did have issues with the romance and ending. Take Back the Skies was well done and set an awesome standard for the rest of the books in the series. I'll definitely be reading the rest of the series and keeping a lookout for novels by debut author, Lucy Saxon, in the future!
Related Posts