Bookish Bingo is an awesome 3-month long event hosted over at Great Imaginations (banner by them, as well)! Their spring bingo card was a lot of fun to try and complete but sadly, I'm off a few spaces. They are also hosting a summer book bingo event as well which I definitely signed up for. Hopefully, I can finish the entire summer bingo card.
Without further ado, here is my somewhat completed Spring Bookish Bingo card!
These past two days, I've read FOUR BOOKS just to fill up some of these squares! I also yelled madly on Twitter and I'm pretty sure all of my followers were kind of confused. I'll be naming the books/what squares they fill right to left!
Warning: some of these books are sequels, read their synopsis' at your own risk (there might be spoilers about the first books)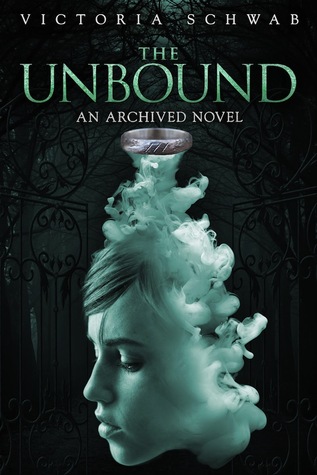 Green Cover
The Unbound by Victoria Schwab
YA Fantasy, The Archived #2
★★★★
Imagine a place where the dead rest on shelves like books. Each body has a story to tell, a life seen in pictures that only Librarians can read. The dead are called Histories, and the vast realm in which they rest is the Archive.

Last summer, Mackenzie Bishop, a Keeper tasked with stopping violent Histories from escaping the Archive, almost lost her life to one. Now, as she starts her junior year at Hyde School, she's struggling to get her life back. But moving on isn't easy — not when her dreams are haunted by what happened. She knows the past is past, knows it cannot hurt her, but it feels so real, and when her nightmares begin to creep into her waking hours, she starts to wonder if she's really safe. 

Meanwhile, people are vanishing without a trace, and the only thing they seem to have in common is Mackenzie. She's sure the Archive knows more than they are letting on, but before she can prove it, she becomes the prime suspect. And unless Mac can track down the real culprit, she'll lose everything, not only her role as Keeper, but her memories, and even her life. Can Mackenzie untangle the mystery before she herself unravels?

With stunning prose and a captivating mixture of action, romance, and horror, The Unbound delves into a richly imagined world where no choice is easy and love and loss feel like two sides of the same coin.
Birds on Cover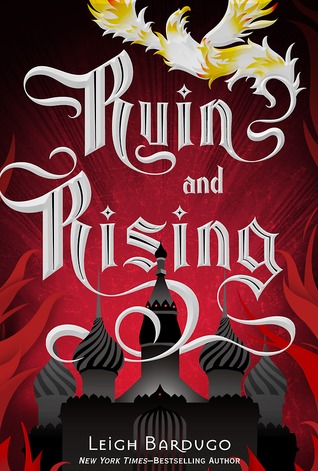 Ruin & Rising by Leigh Bardugo
YA Fantasy, The Grisha #3
★★★
The capital has fallen.

The Darkling rules Ravka from his shadow throne.

Now the nation's fate rests with a broken Sun Summoner, a disgraced tracker, and the shattered remnants of a once-great magical army.

Deep in an ancient network of tunnels and caverns, a weakened Alina must submit to the dubious protection of the Apparat and the zealots who worship her as a Saint. Yet her plans lie elsewhere, with the hunt for the elusive firebird and the hope that an outlaw prince still survives.

Alina will have to forge new alliances and put aside old rivalries as she and Mal race to find the last of Morozova's amplifiers. But as she begins to unravel the Darkling's secrets, she reveals a past that will forever alter her understanding of the bond they share and the power she wields. The firebird is the one thing that stands between Ravka and destruction—and claiming it could cost Alina the very future she's fighting for.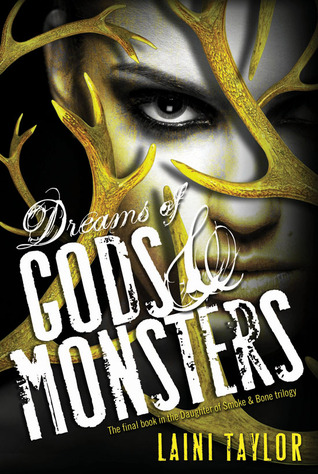 Set During War-Time
Dreams of Gods & Monsters by Laini Taylor
YA Fantasy, Daughter of Smoke & Bone #3
★★★★★
By way of a staggering deception, Karou has taken control of the chimaera rebellion and is intent on steering its course away from dead-end vengeance. The future rests on her, if there can even be a future for the chimaera in war-ravaged Eretz.

Common enemy, common cause.

When Jael's brutal seraph army trespasses into the human world, the unthinkable becomes essential, and Karou and Akiva must ally their enemy armies against the threat. It is a twisted version of their long-ago dream, and they begin to hope that it might forge a way forward for their people.

And, perhaps, for themselves. Toward a new way of living, and maybe even love.

But there are bigger threats than Jael in the offing. A vicious queen is hunting Akiva, and, in the skies of Eretz … something is happening. Massive stains are spreading like bruises from horizon to horizon; the great winged stormhunters are gathering as if summoned, ceaselessly circling, and a deep sense of wrong pervades the world.

What power can bruise the sky?

From the streets of Rome to the caves of the Kirin and beyond, humans, chimaera and seraphim will fight, strive, love, and die in an epic theater that transcends good and evil, right and wrong, friend and enemy. 

At the very barriers of space and time, what do gods and monsters dream of? And does anything else matter?
New-to-you Author

Numbers by Rachel Ward
YA Fantasy, Numbers #1
★★★★

Ever since she was child, Jem has kept a secret: Whenever she meets someone new, no matter who, as soon as she looks into their eyes, a number pops into her head. That number is a date: the date they will die. Burdened with such awful awareness, Jem avoids relationships. Until she meets Spider, another outsider, and takes a chance. The two plan a trip to the city. But while waiting to ride the Eye ferris wheel, Jem is terrified to see that all the other tourists in line flash the same number. Today's number. Today's date. Terrorists are going to attack London. Jem's world is about to explode!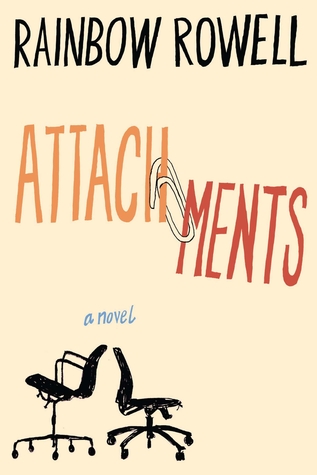 A Romance
Attachments by Rainbow Rowell
Adult Romance
★★★★★
"Hi, I'm the guy who reads your e-mail, and also, I love you . . . "

Beth Fremont and Jennifer Scribner-Snyder know that somebody is monitoring their work e-mail. (Everybody in the newsroom knows. It's company policy.) But they can't quite bring themselves to take it seriously. They go on sending each other endless and endlessly hilarious e-mails, discussing every aspect of their personal lives.

Meanwhile, Lincoln O'Neill can't believe this is his job now- reading other people's e-mail. When he applied to be "internet security officer," he pictured himself building firewalls and crushing hackers- not writing up a report every time a sports reporter forwards a dirty joke.

When Lincoln comes across Beth's and Jennifer's messages, he knows he should turn them in. But he can't help being entertained-and captivated-by their stories.

By the time Lincoln realizes he's falling for Beth, it's way too late to introduce himself.

What would he say . . . ?
Featuring Recovery

Far From You by Tess Sharpe
YA Mystery, LGBT, Contemporary
★★★★
Sophie Winters nearly died. Twice.

The first time, she's fourteen, and escapes a near-fatal car accident with scars, a bum leg, and an addiction to Oxy that'll take years to kick. 

The second time, she's seventeen, and it's no accident. Sophie and her best friend Mina are confronted by a masked man in the woods. Sophie survives, but Mina is not so lucky. When the cops deem Mina's murder a drug deal gone wrong, casting partial blame on Sophie, no one will believe the truth: Sophie has been clean for months, and it was Mina who led her into the woods that night for a meeting shrouded in mystery.

After a forced stint in rehab, Sophie returns home to a chilly new reality. Mina's brother won't speak to her, her parents fear she'll relapse, old friends have become enemies, and Sophie has to learn how to live without her other half. To make matters worse, no one is looking in the right places and Sophie must search for Mina's murderer on her own. But with every step, Sophie comes closer to revealing all: about herself, about Mina and about the secret they shared.
Latino MC
Otherbound by Corinne Duyvis
YA Fantasy, LGBT
★★★
Amara is never alone. Not when she's protecting the cursed princess she unwillingly serves. Not when they're fleeing across dunes and islands and seas to stay alive. Not when she's punished, ordered around, or neglected.

She can't be alone, because a boy from another world experiences all that alongside her, looking through her eyes.

Nolan longs for a life uninterrupted. Every time he blinks, he's yanked from his Arizona town into Amara's mind, a world away, which makes even simple things like hobbies and homework impossible. He's spent years as a powerless observer of Amara's life. Amara has no idea . . . until he learns to control her, and they communicate for the first time. Amara is terrified. Then, she's furious.

All Amara and Nolan want is to be free of each other. But Nolan's breakthrough has dangerous consequences. Now, they'll have to work together to survive–and discover the truth about their connection.
About Plants or Wilderness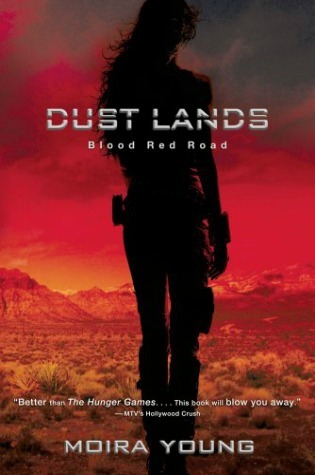 Blood Red Road by Moira Young
YA Dystopia, Sci-fi
★★★★
Saba has spent her whole life in Silverlake, a dried-up wasteland ravaged by constant sandstorms. The Wrecker civilization has long been destroyed, leaving only landfills for Saba and her family to scavenge from. That's fine by her, as long as her beloved twin brother Lugh is around. But when four cloaked horsemen capture Lugh, Saba's world is shattered, and she embarks on a quest to get him back.

Suddenly thrown into the lawless, ugly reality of the outside world, Saba discovers she is a fierce fighter, an unbeatable survivor, and a cunning opponent. Teamed up with a handsome daredevil named Jack and a gang of girl revolutionaries called the Free Hawks, Saba's unrelenting search for Lugh stages a showdown that will change the course of her own civilization.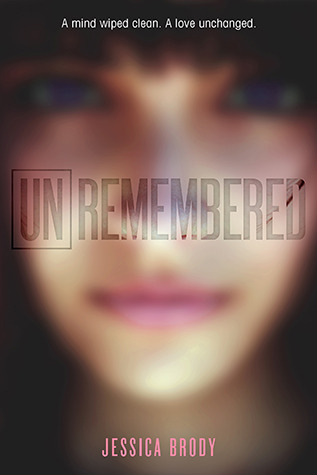 Has Been Made into a Movie
Unremembered by Jessica Brody (it's been recently optioned for a film)
YA Fantasy/Romance, Unremembered #1
★★★★
When Freedom Airlines flight 121 went down over the Pacific Ocean, no one ever expected to find survivors. Which is why the sixteen-year-old girl discovered floating among the wreckage—alive—is making headlines across the globe.

Even more strange is that her body is miraculously unharmed and she has no memories of boarding the plane. She has no memories of her life before the crash. She has no memories period. No one knows how she survived. No one knows why she wasn't on the passenger manifest. And no one can explain why her DNA and fingerprints can't be found in a single database in the world.

Crippled by a world she doesn't know, plagued by abilities she doesn't understand, and haunted by a looming threat she can't remember, Seraphina struggles to piece together her forgotten past and discover who she really is. But with every clue only comes more questions. And she's running out of time to answer them.

Her only hope is a strangely alluring boy who claims to know her from before the crash. Who claims they were in love. But can she really trust him? And will he be able to protect her from the people who have been making her forget?

From popular young adult author Jessica Brody comes a compelling and suspenseful new sci-fi series, set in a world where science knows no boundaries, memories are manipulated, and true love can never be forgotten.
Flower in Title or on Cover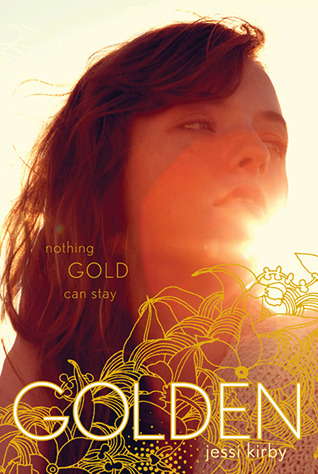 Golden by Jessi Kirby
YA Contemporary
★★★★
Seventeen-year-old Parker Frost has never taken the road less traveled. Valedictorian and quintessential good girl, she's about to graduate high school without ever having kissed her crush or broken the rules. So when fate drops a clue in her lap—one that might be the key to unraveling a town mystery—she decides to take a chance.

Julianna Farnetti and Shane Cruz are remembered as the golden couple of Summit Lakes High—perfect in every way, meant to be together forever. But Julianna's journal tells a different story—one of doubts about Shane and a forbidden romance with an older, artistic guy. These are the secrets that were swept away with her the night that Shane's jeep plunged into an icy river, leaving behind a grieving town and no bodies to bury.

Reading Julianna's journal gives Parker the courage to start to really live—and it also gives her reasons to question what really happened the night of the accident. Armed with clues from the past, Parker enlists the help of her best friend, Kat, and Trevor, her longtime crush, to track down some leads. The mystery ends up taking Parker places that she never could have imagined. And she soon finds that taking the road less traveled makes all the difference.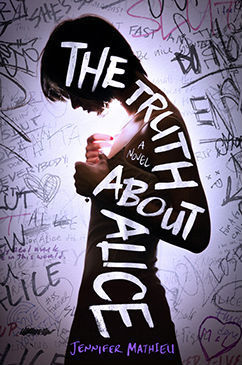 Spring Release
The Truth About Alice by Jennifer Mathieu
YA Contemporary
★★★★
Everyone has a lot to say about Alice Franklin, and it's stopped mattering whether it's true. The rumors started at a party when Alice supposedly had sex with two guys in one night. When school starts everyone almost forgets about Alice until one of those guys, super-popular Brandon, dies in a car wreck that was allegedly all Alice's fault. Now the only friend she has is a boy who may be the only other person who knows the truth, but is too afraid to admit it. Told from the perspectives of popular girl Elaine, football star Josh, former outcast Kelsie, and shy genius Kurt, we see how everyone has a motive to bring – and keep – Alice down.
Set in California or Florida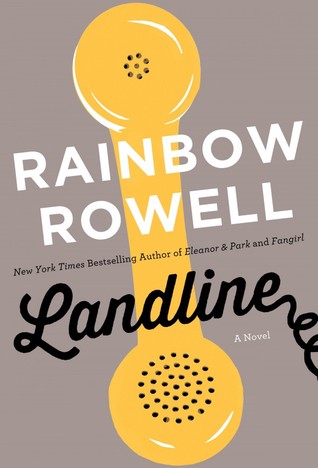 Landline by Rainbow Rowell
Adult Romance/Fantasy
★★★★★
Georgie McCool knows her marriage is in trouble. That it's been in trouble for a long time. She still loves her husband, Neal, and Neal still loves her, deeply — but that almost seems besides the point now.

Maybe that was always besides the point.

Two days before they're supposed to visit Neal's family in Omaha for Christmas, Georgie tells Neal that she can't go. She's a TV writer, and something's come up on her show; she has to stay in Los Angeles. She knows that Neal will be upset with her — Neal is always a little upset with Georgie — but she doesn't expect to him to pack up the kids and go home without her.

When her husband and the kids leave for the airport, Georgie wonders if she's finally done it. If she's ruined everything.

That night, Georgie discovers a way to communicate with Neal in the past. It's not time travel, not exactly, but she feels like she's been given an opportunity to fix her marriage before it starts . . .

Is that what she's supposed to do?

Or would Georgie and Neal be better off if their marriage never happened?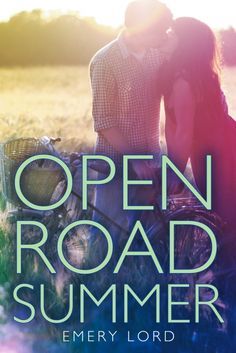 Featuring Travel
Open Road Summer by Emery Lord
YA Contemporary/Romance
★★★★★
After breaking up with her bad-news boyfriend, Reagan O'Neill is ready to leave her rebellious ways behind. . . and her best friend, country superstar Lilah Montgomery, is nursing a broken heart of her own. Fortunately, Lilah's 24-city tour is about to kick off, offering a perfect opportunity for a girls-only summer of break-up ballads and healing hearts. But when Matt Finch joins the tour as its opening act, his boy-next-door charm proves difficult for Reagan to resist, despite her vow to live a drama-free existence. This summer, Reagan and Lilah will navigate the ups and downs of fame and friendship as they come to see that giving your heart to the right person is always a risk worth taking. A fresh new voice in contemporary romance, Emery Lord's gorgeous writing hits all the right notes.
Set in High-School

Ask Again Later by Liz Czukas
YA Contemporary
★★★★★
Despite what her name might suggest, Heart has zero interest in complicated romance. So when her brilliant plan to go to prom with a group of friends is disrupted by two surprise invites, Heart knows there's only one drama-free solution: flip a coin.

Heads: The jock. He might spend all night staring at his ex or throw up in the limo, but how bad can her brother's best friend really be?

Tails: The theater geek…with a secret. What could be better than a guy who shares all Heart's interests–even if he wants to share all his feelings?

Heart's simple coin flip has somehow given her the chance to live out both dates. But where her prom night ends up might be the most surprising thing of all…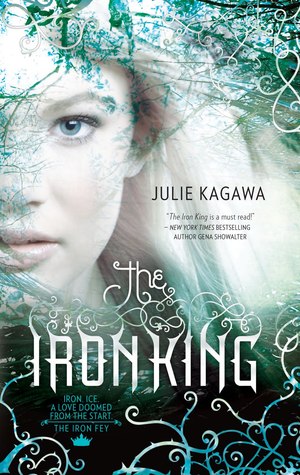 Written by a Woman
The Iron King by Julie Kagawa
YA Fantasy, The Iron fey #1
★★★
Meghan Chase has a secret destiny; one she could never have imagined.

Something has always felt slightly off in Meghan's life, ever since her father disappeared before her eyes when she was six. She has never quite fit in at school or at home.

When a dark stranger begins watching her from afar, and her prankster best friend becomes strangely protective of her, Meghan senses that everything she's known is about to change.

But she could never have guessed the truth – that she is the daughter of a mythical faery king and is a pawn in a deadly war. Now Meghan will learn just how far she'll go to save someone she cares about, to stop a mysterious evil, no faery creature dare face; and to find love with a young prince who might rather see her dead than let her touch his icy heart.
First in a Series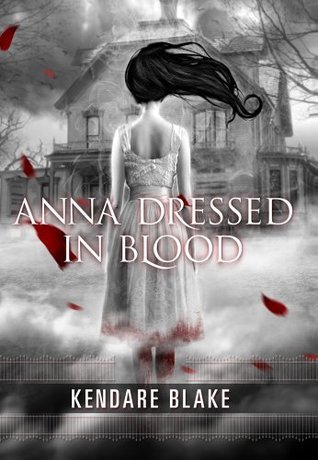 Anna Dressed in Blood by Kendare Blake
YA Fantasy/Paranormal
★★★★
Cas Lowood has inherited an unusual vocation: He kills the dead.

So did his father before him, until he was gruesomely murdered by a ghost he sought to kill. Now, armed with his father's mysterious and deadly athame, Cas travels the country with his kitchen-witch mother and their spirit-sniffing cat. They follow legends and local lore, destroy the murderous dead, and keep pesky things like the future and friends at bay.

Searching for a ghost the locals call Anna Dressed in Blood, Cas expects the usual: track, hunt, kill. What he finds instead is a girl entangled in curses and rage, a ghost like he's never faced before. She still wears the dress she wore on the day of her brutal murder in 1958: once white, now stained red and dripping with blood. Since her death, Anna has killed any and every person who has dared to step into the deserted Victorian she used to call home.

Yet she spares Cas's life.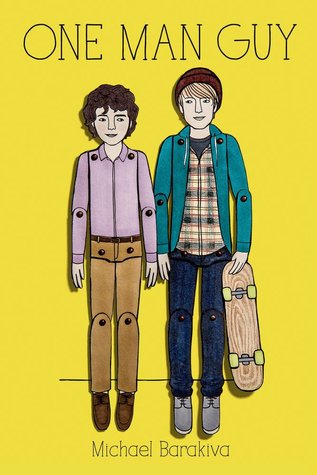 Yellow Cover
One Man Guy by Michael Barakiva
YA Romance, LGBT
★★★★★
A heartfelt, laugh-out-loud-funny story of romance, family, and self-discovery.

Alek Khederian should have guessed something was wrong when his parents took him to a restaurant. Everyone knows that Armenians never eat out. Between bouts of interrogating the waitress and criticizing the menu, Alek's parents announce that he'll be attending summer school in order to bring up his grades. Alek is sure this experience will be the perfect hellish end to his hellish freshman year of high school. He never could've predicted that he'd meet someone like Ethan.

Ethan is everything Alek wishes he were: confident, free-spirited, and irreverent. He can't believe a guy this cool wants to be his friend. And before long, it seems like Ethan wants to be more than friends. Alek has never thought about having a boyfriend—he's barely ever had a girlfriend—but maybe it's time to think again.
Starts with S,P,R,I,N,G

Roomies by Sara Zarr and Tara Altebrando
YA Contemporary, Friendship
★★★★
It's time to meet your new roomie.

When East Coast native Elizabeth receives her freshman-year roommate assignment, she shoots off an e-mail to coordinate the basics: television, microwave, mini-fridge. That first note to San Franciscan Lauren sparks a series of e-mails that alters the landscape of each girl's summer — and raises questions about how two girls who are so different will ever share a dorm room.

As the countdown to college begins, life at home becomes increasingly complex. With family relationships and childhood friendships strained by change, it suddenly seems that the only people Elizabeth and Lauren can rely on are the complicated new boys in their lives . . . and each other. Even though they've never met.

National Book Award finalist Sara Zarr and acclaimed author Tara Altebrando join forces for a novel about growing up, leaving home, and getting that one fateful e-mail that assigns your college roommate.
A YA Book
A Wizard's Promise by Cassandra Rose Clarke
YA Fantasy, The Hanna Duology #1
★★★
All Hanna Euli wants is to become a proper witch.

Unfortunately, she's stuck as an apprentice to a grumpy fisherman. When their boat gets caught up in a mysterious storm and blown wildly off course, Hanna finds herself further away from home than she's ever been before.

As she tries to get back, she learns there may be more to her apprentice master than she realized, especially when a mysterious, beautiful, and very non-human boy begins following her through the ocean, claiming that he needs Hanna's help.
Zombies!

Rebel by Amy Tintera
YA Dystopia/Post Apocalypse, Reboot #2
★★★★
The sequel to the action-packed Reboot is a can't-miss thrill ride, perfect for fans of James Patterson, Veronica Roth, and Marie Lu.

After coming back from death as Reboots and being trained by HARC as soldiers, Wren and Callum have finally escaped north, where they hope to find a life of freedom. But when they arrive at the Reboot Reservation, it isn't what they expected. Under the rule of a bloodthirsty leader, Micah, the Reboots are about to wage an all-out war on the humans. Although Wren's instincts are telling her to set off into the wilderness on their own and leave the battle far behind, Callum is unwilling to let his human family be murdered. When Micah commits the ultimate betrayal, the choice is made for them. But Micah has also made a fatal mistake . . . he's underestimated Wren and Callum.

The explosive finale to the Reboot duology is full of riveting action and steamy love scenes as Wren and Callum become rebels against their own kind.
Related Posts