I read way more than I have time/want to review so I figured, it's time to start doing some mini-reviews! I don't want to keep you lovely readers out of the loop and I want to share all the lovely books I've read. These mini-reviews will all be contemporary based!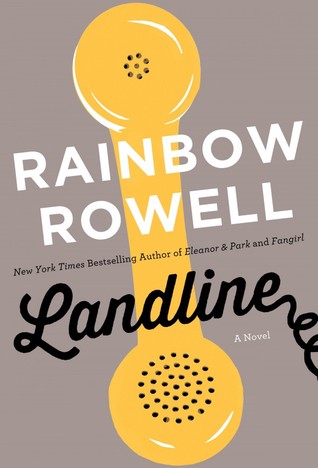 Landline by Rainbow Rowell
Date publishing: July 8th 2014 by St. Martin's Press
Source: Bought (my local store put it on display crazy early!)
Rating: ★★★★★
Synopsis (via goodreads):
Georgie McCool knows her marriage is in trouble. That it's been in trouble for a long time. She still loves her husband, Neal, and Neal still loves her, deeply — but that almost seems besides the point now.

Maybe that was always besides the point.

Two days before they're supposed to visit Neal's family in Omaha for Christmas, Georgie tells Neal that she can't go. She's a TV writer, and something's come up on her show; she has to stay in Los Angeles. She knows that Neal will be upset with her — Neal is always a little upset with Georgie — but she doesn't expect to him to pack up the kids and go home without her.

When her husband and the kids leave for the airport, Georgie wonders if she's finally done it. If she's ruined everything.

That night, Georgie discovers a way to communicate with Neal in the past. It's not time travel, not exactly, but she feels like she's been given an opportunity to fix her marriage before it starts . . .

Is that what she's supposed to do?

Or would Georgie and Neal be better off if their marriage never happened?
My thoughts: Ladies and gentleman, Rainbow has done it again! Seriously, I am in awe at how much epic this book is. I don't think it's possible for me to not love a Rainbow Rowell book. In a little over 300 pages, Rainbow has made me laugh, tear up, and surprised. I honestly loved reading all about Georgie and it was so interesting to see how her and Neal fell in love. The supporting characters were also beautifully written and they complimented the story so well. In general, you ALL need to get your hands on this one!
Life by Committee by Corey Ann Haydu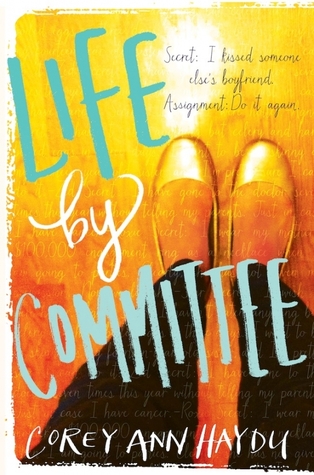 Date published: May 13th 2014 by Katerine Tegen Books
Source: BookCon signing! (it is personalized to me)
Rating: ★★★★
Synopsis (via goodreads):
Some secrets are too good to keep. 

Tabitha might be the only girl in the history of the world who actually gets less popular when she gets hot. But her so-called friends say she's changed, and they've dropped her flat. 

Now Tab has no one to tell about the best and worst thing that has ever happened to her: Joe, who spills his most intimate secrets to her in their nightly online chats. Joe, whose touch is so electric, it makes Tab wonder if she could survive an actual kiss. Joe, who has Tabitha brimming with the restless energy of falling in love. Joe, who is someone else's boyfriend.

Just when Tab is afraid she'll burst from keeping the secret of Joe inside, she finds Life by Committee. The rules of LBC are simple: tell a secret, receive an assignment. Complete the assignment to keep your secret safe. 

Tab likes it that the assignments push her to her limits, empowering her to live boldly and go further than she'd ever go on her own.

But in the name of truth and bravery, how far is too far to go?
My thoughts: Oh gosh, I don't even know how to gather my thoughts about this one. Life by Committee is a messy, messy book but it was a great read. I love how realistic this LBC is because let's face it, life isn't as simple as doing one thing or the other. There will always be something standing in the way, something complicated or problems that you just can't fix. LBC does a great job of outlining how messy life is and I definitely recommend it for people looking for a more realistic YA novel.
Roomies by Sara Zarr and Tara Altebrando
Date published: December 24th 2013 by Little Brown Books for Young Readers
Source: Bought
Rating:  ★★★★
Synopsis (via goodreads):
It's time to meet your new roomie.

When East Coast native Elizabeth receives her freshman-year roommate assignment, she shoots off an e-mail to coordinate the basics: television, microwave, mini-fridge. That first note to San Franciscan Lauren sparks a series of e-mails that alters the landscape of each girl's summer — and raises questions about how two girls who are so different will ever share a dorm room.

As the countdown to college begins, life at home becomes increasingly complex. With family relationships and childhood friendships strained by change, it suddenly seems that the only people Elizabeth and Lauren can rely on are the complicated new boys in their lives . . . and each other. Even though they've never met.

National Book Award finalist Sara Zarr and acclaimed author Tara Altebrando join forces for a novel about growing up, leaving home, and getting that one fateful e-mail that assigns your college roommate.
My thoughts: Roomies is one awesome friendship novel. In the YA world, there aren't a lot of books about friendship and I'm glad that Roomies makes the list of those that are. While Roomies has some romance, I love that it's focused on the friendship between Elizabeth and Lauren. Lauren and Elizabeth were so different from each other and I love that they became friends despite their many differences. Each of the girls had their own personal journey to get through prior to entering college and I loved reading all about it. If you're looking for a great friendship story, I highly recommend Roomies!
Have you read any of these books? What did you think of them? 
Related Posts