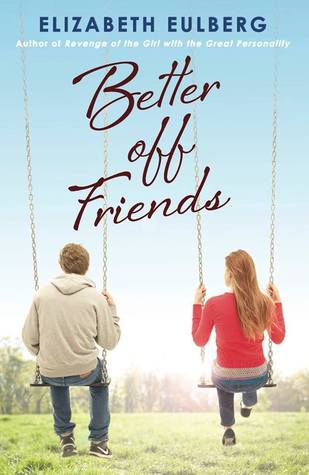 Better Off Friends
by Elizabeth Eulberg

Published by
Scholastic Point
on February 25th 2014

Genres: Contemporary, Romance, YA, Young Adult

Goodreads
---
For Macallan and Levi, it was friends at first sight. Everyone says guys and girls can't be just friends, but these two are. They hang out after school, share tons of inside jokes, their families are super close, and Levi even starts dating one of Macallan's friends. They are platonic and happy that way.
Eventually they realize they're best friends — which wouldn't be so bad if they didn't keep getting in each other's way. Guys won't ask Macallan out because they think she's with Levi, and Levi spends too much time joking around with Macallan, and maybe not enough time with his date. They can't help but wonder . . . are they more than friends or are they better off without making it even more complicated?
From romantic comedy superstar Elizabeth Eulberg comes a fresh, fun examination of a question for the ages: Can guys and girls ever really be just friends? Or are they always one fight away from not speaking again — and one kiss away from true love?
When I first opened up this book, I knew I would love it. I've read my fair share of contemporary books and I can honestly say that Better off Friends is unique and nothing like I've read before. Basically, Better Off Friends is easily one of my favourite reads of 2014 and possibly ever. I recommend this one to contemporary lovers in a heartbeat.
Let me summarize the book for you. In gist, it's basically a story about two friends, a boy and a girl. People are always asking them if they're a couple but to be honest, they've been friends at first sight. But now they're wondering, should they risk their friendship or are they better off friends? *cue the dramatic music*
If you haven't guessed it, I loved this book. The writing style was awesome and I loved the chat-style chapters in between actual chapters (if that makes sense). I also loved that the book had dual POV which made it freakin' awesome. And by now you're probably thinking "Yes Shelly, we get it. It's awesome" but too bad because I'll keep repeating it anyway.
Our main characters were pretty spectacular. I loved their friendship and seeing how it progressed from when they first met in grade 7. I loved Levi (our male character) because of his distinct personality and some cluelessness while I only liked Macallan. Which isn't a bad thing. I just though Macallan could have handled some situations better and with a bit of grace. I completely understand why she did all of said horrible actions but dammit, I was annoyed. I loved their puns, inside jokes and just plain cuteness. The ship basically sails itself.
In general, Better Off Friends is an awesome book that I highly recommend to fans of cute romances/contemporary novels. I definitely loved this book and I will keep forcing everyone to read it. You have been warned.
Related Posts