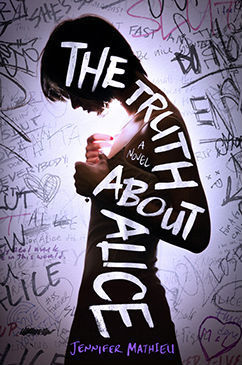 The Truth About Alice
by Jennifer Mathieu

Published by
Roaring Book Press
on June 1st 2014

Genres: Contemporary, YA, Young Adult

Goodreads
---
Everyone knows Alice slept with two guys at one party. When Healy High star quarterback, Brandon Fitzsimmons, dies in a car crash, it was because he was sexting with Alice. Ask anybody.
Rumor has it Alice Franklin is a slut. It's written all over the "slut stall" in the girls' bathroom: "Alice had sex in exchange for math test answers" and "Alice got an abortion last semester." After Brandon dies, the rumors start to spiral out of control. In this remarkable debut novel, four Healy High students tell all they "know" about Alice--and in doing so reveal their own secrets and motivations, painting a raw look at the realities of teen life. But in this novel from Jennifer Mathieu, exactly what is the truth about Alice? In the end there's only one person to ask: Alice herself.
The Truth About Alice is unlike anything I've read before. Described through several point of views, The Truth About Alice is the story of Alice, a girl who everyone thinks is a slut. But is she? Well, that's for readers to find out.
I really enjoyed the unique premise of The Truth About Alice but I find myself struggling to write a review. How do I review a novel like this one? I guess short captions works best for these.
Premise. The premise of The Truth About Alice is unique. The multiple point of views make the story seem mysterious and I found myself being insanely curious about what really happened.
Characters. The changing point of views brought a lot of characters into the mix. I thought all the characters were unique and individual in their own way. While I don't agree with the actions of a lot of characters, I can empathize with their reasoning. Living in a small town, these people just want to fit in and I guess I can see where their actions come from.
Writing. Each character had their own unique voice and it really showed through the writing. I really enjoyed the writing style and I found it easy to breeze through. The lack of metaphors/other literary devices really fit the style of the book considering all the characters were gossiping teenagers.
Romance. There was no romance, hurrah!
Plot. The Truth About Alice was a pretty short novel but in those 200 pages, it brings up a lot of issues. The biggest issue is probably being perception vs. reality. How people perceive you is probably different than how you actually are and The Truth About Alice really emphasizes it. The novel also tries to deal with bullying, fitting in and a lot of other issues.The Truth About Alice makes a bold statement in such a short novel which really tells you something about how powerful this book can be.
Overall,  I think that The Truth About Alice was an awesome and unique book. I highly recommend it for people looking for books with a unique premise & a powerful message.
Related Posts