I am secretly a comic book geek. It's not that I don't want to keep it a secret (I'm DAMN proud of it!) but it's just that it's never come up. I love reading graphic novels and comic books but I know it's impractical to review every single one especially since the novels are so short but the time to write the reviews would take a while. This is why I have decided to start a new feature called GRAPHIC NOVELS GALORE! These are  some mini-reviews for graphic novels I've read recently. Let's get started!
Friends With Boys by Faith Erin Hicks
Goodreads| 3.5 Stars 
After years of homeschooling, Maggie is starting high school. It's pretty terrifying.

Maggie's big brothers are there to watch her back, but ever since Mom left it just hasn't been the same. 

Besides her brothers, Maggie's never had any real friends before. Lucy and Alistair don't have lots of friends either. But they eat lunch with her at school and bring her along on their small-town adventures.

Missing mothers…distant brothers…high school…new friends… It's a lot to deal with. But there's just one more thing.

MAGGIE IS HAUNTED.
This was pretty awesome. Ghosts, awesome brothers, some typical high school drama and NO ROMANCE. Do I need to say more?
Bakuman Vol.1 by Tsugumi Ohba and Takeshi Obata

Goodreads| 3 Stars
Average student Moritaka Mashiro enjoys drawing for fun. When his classmate and aspiring writer Akito Takagi discovers his talent, he begs Moritaka to team up with him as a manga-creating duo. But what exactly does it take to make it in the manga-publishing world?

I really enjoyed this one. I really loved the whole concept of a manga about a guy writing a manga. Very inception-y. I'll probably continue the series. It's 12 volumes, I think. and it's already done.
Flight Vol.1 Edited by Kazu Kibuishi
Goodreads| 5 Stars
Flight Volume One features stories by professionals and non-professionals alike, all playing on the theme of flight in its many incarnations. From the maiden voyage of a home-built plane to the adventures of a young courier and his flying whale to a handful of stories about coming of age and letting things go, this first volume of Flight is full of memorable tales that will both amaze and inspire.
This is basically an anthology of pretty awesome short stories. I've never read any other graphic novels like it and I seriously love it! I have the second volume sitting on my shelves and I can't wait to read it.
Star Trek:Countdown by Roberto Orci, Alex Kurtzman, Mike Johnson, Tim Jones, David Messina , Giovanni Niro, J.J. Abrams
Goodreads| 4 Stars
Space: the final frontier. These are the voyages of the Starship Enterprise…as you've never seen them before!

Star Trek: Countdown" is the official prequel to the smash-hit movie outlining the history of Nero the movie's villain (played by Eric Bana). Who is this mysterious Romulan and how did he turn from hero to villain? Also featuring Captain Picard and many of the Next Generation stars this is essential reading for "Star Trek" fans! JJ Abrams the film's director along with scriptwriters Roberto Orci and Alex Kurtzman have supervised the script by Tim Jones and Mike Johnson illustrated by David Messina ("Angel") to make the ultimate prequel for the ultimate reimagining of "Star Trek".
Pretty short but super interesting. Spock, Picard, Data, LaForge, all my favourite characters in one single comic. It was great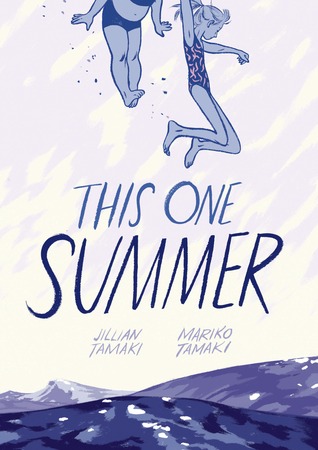 This One Summer by Jillian Tamaki and Mariko Tamaki
Goodreads| 3.5 stars
Every summer, Rose goes with her mom and dad to a lake house in Awago Beach. It's their getaway, their refuge. Rosie's friend Windy is always there, too, like the little sister she never had. But this summer is different. Rose's mom and dad won't stop fighting, and when Rose and Windy seek a distraction from the drama, they find themselves with a whole new set of problems. It's a summer of secrets and sorrow and growing up, and it's a good thing Rose and Windy have each other.

In This One Summer two stellar creators redefine the teen graphic novel. Cousins Mariko and Jillian Tamaki, the team behind Skim, have collaborated on this gorgeous, heartbreaking, and ultimately hopeful story about a girl on the cusp of her teen age—a story of renewal and revelation.
This had a Canadian setting, YAY! I love discovering Canadian authors, it's so great. Also, I really loved this story and this artwork is just so freakin' good. I highly recommend this one.
Related Posts