Top Ten Tuesday is a weekly meme hosted by  The Broke and The Bookish.

Top Ten Books You'd Like if You Like X TV Show/Movie
I choose to pick books that are similar to Merlin, one of my favourite TV shows. These books either have dragons or very awesome high fantasy elements!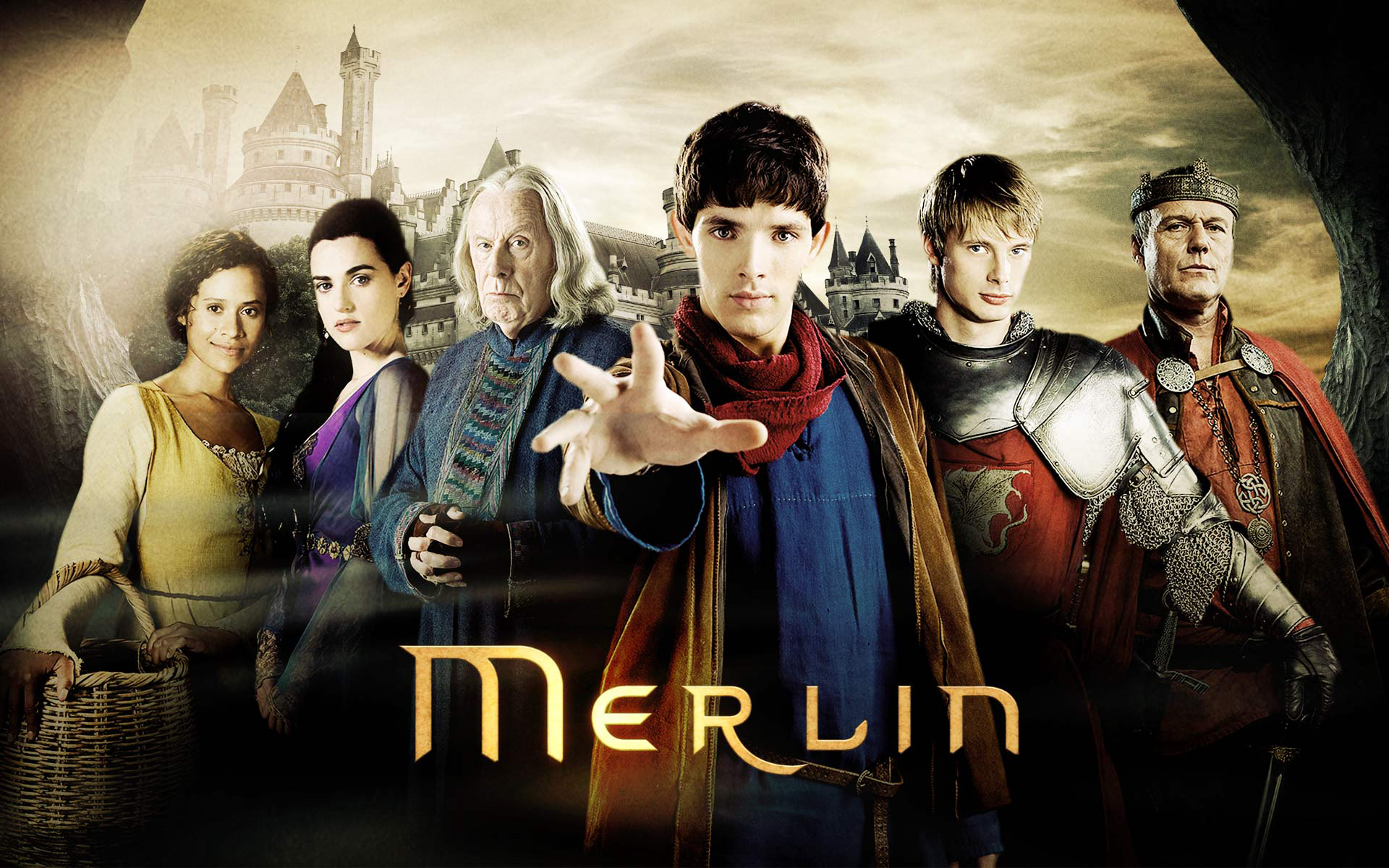 Four decades of peace have done little to ease the mistrust between humans and dragons in the kingdom of Goredd. Folding themselves into human shape, dragons attend court as ambassadors, and lend their rational, mathematical minds to universities as scholars and teachers. As the treaty's anniversary draws near, however, tensions are high.
Seraphina Dombegh has reason to fear both sides. An unusually gifted musician, she joins the court just as a member of the royal family is murdered—in suspiciously draconian fashion. Seraphina is drawn into the investigation, partnering with the captain of the Queen's Guard, the dangerously perceptive Prince Lucian Kiggs. While they begin to uncover hints of a sinister plot to destroy the peace, Seraphina struggles to protect her own secret, the secret behind her musical gift, one so terrible that its discovery could mean her very life.

In her exquisitely written fantasy debut, Rachel Hartman creates a rich, complex, and utterly original world. Seraphina's tortuous journey to self-acceptance is one readers will remember long after they've turned the final page.
The Girl of Fire and Thorns by Rae Carson
Once a century, one person is chosen for greatness.

Elisa is the chosen one.

But she is also the younger of two princesses, the one who has never done anything remarkable. She can't see how she ever will.

Now, on her sixteenth birthday, she has become the secret wife of a handsome and worldly king—a king whose country is in turmoil. A king who needs the chosen one, not a failure of a princess.

And he's not the only one who seeks her. Savage enemies seething with dark magic are hunting her. A daring, determined revolutionary thinks she could be his people's savior. And he looks at her in a way that no man has ever looked at her before. Soon it is not just her life, but her very heart that is at stake.

Elisa could be everything to those who need her most. If the prophecy is fulfilled. If she finds the power deep within herself. If she doesn't die young.

Most of the chosen do.
Sea of Shadows by Kelley Armstrong
Kelley Armstrong, #1 New York Times bestselling author, takes an exciting new direction with this big, breathtaking blend of fantasy, romance, horror, and pulse-pounding action, perfect for fans of Graceling and Game of Thrones.
Twin sisters Moria and Ashyn were marked at birth to become the Keeper and the Seeker of Edgewood, beginning with their sixteenth birthday. Trained in fighting and in the secret rites of the spirits, they lead an annual trip into the Forest of the Dead. There, the veil between the living world and the beyond is thinnest, and the girls pay respect to the spirits who have passed.

But this year, their trip goes dreadfully wrong.

With all the heart-stopping romance and action that have made her a #1New York Times bestselling author, and set in an unforgettably rich and dangerous world, this first epic book in the Age of Legends trilogy will appeal to Kelley Armstrong's legions of fans around the world and win her many new ones.
Eragon by Christopher Paolini
One boy . . .

One dragon . . .

A world of adventure.

When Eragon finds a polished blue stone in the forest, he thinks it is the lucky discovery of a poor farm boy; perhaps it will buy his family meat for the winter. But when the stone brings a dragon hatchling, Eragon soon realizes he has stumbled upon a legacy nearly as old as the Empire itself.

Overnight his simple life is shattered, and he is thrust into a perilous new world of destiny, magic, and power. With only an ancient sword and the advice of an old storyteller for guidance, Eragon and the fledgling dragon must navigate the dangerous terrain and dark enemies of an Empire ruled by a king whose evil knows no bounds.

Can Eragon take up the mantle of the legendary Dragon Riders? The fate of the Empire may rest in his hands.
The Last Dragonslayer by Jasper Fforde
In the good old days, magic was indispensable—it could both save a kingdom and clear a clogged drain. But now magic is fading: drain cleaner is cheaper than a spell, and magic carpets are used for pizza delivery. Fifteen-year-old foundling Jennifer Strange runs Kazam, an employment agency for magicians—but it's hard to stay in business when magic is drying up. And then the visions start, predicting the death of the world's last dragon at the hands of an unnamed Dragonslayer. If the visions are true, everything will change for Kazam—and for Jennifer. Because something is coming. Something known as . . . Big Magic.
Ok I picked The Bourne quadrology (that is now a word) because you can't pick just one Bourne movie! The thing about the Bourne series is that it's action filled but it's also fueled by all thes government conspiracies, cover ups and a human who has been "enhance". So what books do I recommend for lovers of the Bourne quadrology? I'm so happy you asked!
Uninvited by Sophie Jordan
The Scarlet Letter meets Minority Report in bestselling author Sophie Jordan's chilling new novel about a teenage girl who is ostracized when her genetic test proves she's destined to become a murderer.
When Davy Hamilton's tests come back positive for Homicidal Tendency Syndrome (HTS)-aka the kill gene-she loses everything. Her boyfriend ditches her, her parents are scared of her, and she can forget about her bright future at Juilliard. Davy doesn't feel any different, but genes don't lie. One day she will kill someone.

Only Sean, a fellow HTS carrier, can relate to her new life. Davy wants to trust him; maybe he's not as dangerous as he seems. Or maybe Davy is just as deadly.

The first in a two-book series, Uninvited tackles intriguing questions about free will, identity, and human nature. Steeped in New York Times bestselling author Sophie Jordan's trademark mix of gripping action and breathless romance, this suspenseful tale is perfect for fans of James Patterson, Michelle Hodkin, and Lisa McMann.
Divergent by Veronica Roth
In Beatrice Prior's dystopian Chicago world, society is divided into five factions, each dedicated to the cultivation of a particular virtue–Candor (the honest), Abnegation (the selfless), Dauntless (the brave), Amity (the peaceful), and Erudite (the intelligent). On an appointed day of every year, all sixteen-year-olds must select the faction to which they will devote the rest of their lives. For Beatrice, the decision is between staying with her family and being who she really is–she can't have both. So she makes a choice that surprises everyone, including herself.

During the highly competitive initiation that follows, Beatrice renames herself Tris and struggles alongside her fellow initiates to live out the choice they have made. Together they must undergo extreme physical tests of endurance and intense psychological simulations, some with devastating consequences. As initiation transforms them all, Tris must determine who her friends really are–and where, exactly, a romance with a sometimes fascinating, sometimes exasperating boy fits into the life she's chosen. But Tris also has a secret, one she's kept hidden from everyone because she's been warned it can mean death. And as she discovers unrest and growing conflict that threaten to unravel her seemingly perfect society, Tris also learns that her secret might help her save the ones she loves . . . or it might destroy her.
Altered by Jennifer Rush
When you can't trust yourself, who can you believe?
Everything about Anna's life is a secret. Her father works for the Branch at the helm of its latest project: monitoring and administering treatments to the four genetically altered boys in the lab below their farmhouse. There's Nick, Cas, Trev . . . and Sam, who's stolen Anna's heart. When the Branch decides it's time to take the boys, Sam stages an escape, killing the agents sent to retrieve them.

Anna is torn between following Sam or staying behind in the safety of her everyday life. But her father pushes her to flee, making Sam promise to keep her away from the Branch, at all costs. There's just one problem. Sam and the boys don't remember anything before living in the lab—not even their true identities.

Now on the run, Anna soon discovers that she and Sam are connected in more ways than either of them expected. And if they're both going to survive, they must piece together the clues of their past before the Branch catches up to them and steals it all away.
False Memory by Dan Krokos
Miranda wakes up alone on a park bench with no memory. In her panic, she releases a mysterious energy that incites pure terror in everyone around her. Except Peter, a boy who isn't at all surprised by Miranda's shocking ability.

Left with no choice but to trust this stranger, Miranda discovers she was trained to be a weapon and is part of an elite force of genetically-altered teens who possess flawless combat skills and powers strong enough to destroy a city. But adjusting to her old life isn't easy—especially with Noah, the boyfriend she can't remember loving.

Then Miranda uncovers a dark truth that sets her team on the run. Suddenly her past doesn't seem to matter… when there may not be a future.

Dan Krokos' debut is a tour-de-force of non-stop action that will leave readers begging for the next book in this bold and powerful new series.
Partials by Dan Wells
For fans of The Hunger Games, Battlestar Galactica, and Blade Runnercomes the first book in the Partials Sequence, a fast-paced, action-packed, and riveting sci-fi teen series, by acclaimed author Dan Wells.

Humanity is all but extinguished after a war with Partials—engineered organic beings identical to humans—has decimated the population. Reduced to only tens of thousands by a weaponized virus to which only a fraction of humanity is immune, the survivors in North America have huddled together on Long Island. But sixteen-year-old Kira is determined to find a solution. As she tries desperately to save what is left of her race, she discovers that that the survival of both humans and Partials rests in her attempts to answer questions about the war's origin that she never knew to ask.

Playing on our curiosity of and fascination with the complete collapse of civilization, Partials is, at its heart, a story of survival, one that explores the individual narratives and complex relationships of those left behind, both humans and Partials alike—and of the way in which the concept of what is right and wrong in this world is greatly dependent on one's own point of view.
Related Posts